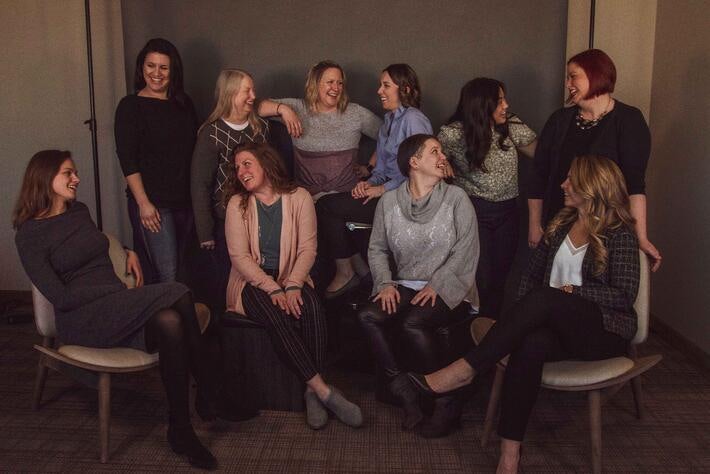 Disrupting Beyond Technology: The Women of 75F
I have been at 75F for more than four years and at the beginning of my time with the company, I was one of three women in the office. I didn't realize the men to women ratio until we held our group meetings and if Melissa or Renee (the other two women at the time) weren't in the office. It would only be me. Over the next year or two while the company was still in its infancy, the culture and the environment of 75F never felt like a 'boy's club'. I always felt included. To be 100% clear, the problem wasn't that 75F didn't want to hire women, the problem was that women weren't applying for open positions and when coupled with pertinent qualifications for roles, the pool of candidates became smaller. 
In early 2019, the company held a meeting where our CEO Deepinder Singh asked the team what things we wanted 75F to invest in, and the first thing I said was "more women in the workplace". Since that day, the company has fulfilled that investment by hiring eight fabulous women in the U.S. office. Currently, there is at least one woman in every department of 75F whether that's HR, marketing, supply chain, or sales. We are a small yet nimble workforce of 35 disruptors, (as we like to call ourselves) of which 11 are women. In the tech industry, having females account for 1/3 of your entire team is a rarity and we are all so proud and strive to keep that percentage increasing.
I never knew how much it would have rejuvenated the office just by adding a few more women to the team. I've had more reasons and more energy to get to work. I now have more women I can look up to and go to for advice and feedback. I'm still one of the youngest (but oldest employee) in the company and having these amazing women around has made my time at 75F much easier, more productive, and more fun. You choose to keep working at a company because the people and culture are great and because you are invested in the overall mission. I'm beyond grateful they are here in helping form the culture of 75F. 
Because we've added so many great females to the 75F team, I wanted to create a blog post that showcases each of these fabulous women and give them the visibility they deserve. I want to show our audience and potential applicants (hopefully more women) who we are and where we come from. As I asked them my questions to help complete this post, I realized that each and every one of us have very different job roles and that many of us came into 75F creating a whole new job that wasn't there before. Without further ado, meet and welcome the inspirations for this post! Please feel free to comment on this post or via our social channels!
Rachel Haines is a Territory Sales Manager based in Houston, TX and she covers the territories of Texas, Arkansas, Oklahoma, and Louisiana. She grew up in Arkansas, and went to college at Texas A&M, graduating with a BS in Engineering in 2012. Houston has been her home since 2014 and she now lives there with her husband, Wes, and their two standard poodles. In her spare time, she enjoys watching movies, attending weddings, going hiking, and eating Tex-Mex. I was in the office when Rachel was being interviewed…truth be told we were begging her to join. I thought she was great and I could feel that her energy would fit in with the company immediately. Thankfully she felt the same, too. She says, "The culture [at 75F] is something that is hard to define, but there was an electric buzz and energy when I went up to [headquarters]. It's what drew me to 75F and keeps me engaged as a remote worker". Those of us in the Twin Cities office normally get to experience Rachel through a computer screen, but her vibrance and energy shoots through the web cam. She's one of the most captivating people I've ever met.
Brittany Tischer is a Project Manager and part of the support team at 75F. This position never existed before, therefore she has the task in creating the role while learning about the company at the same time. Brittany is a mother of two who support her as much as she supports them. She's from the southern Twin Cities suburbs and loves spending her free time watching her kids play volleyball and football and camping. If there is a way for her to be competitive in something, she will make that happen. One of the things I find super unique about working at 75F Brittany sums up in one sentence, "The part that I love the most about my job is that it allows me to be me." At 75F, we try to cultivate a safe environment where everyone is free to be themselves and say what they truly mean. We're trying our best to not be 'Minnesota-nice' in work culture. We can't run a company being passive aggressive. We want everyone's input and we want everyone to feel like they're heard. Brittany knows this to be true. "75F is the kind of company that allows me to be me and take my input and implement it. I am not just a number and I know that I am making a difference".
Melissa Baker was once the office manager but now she is a the 75F Technical Writer. I don't believe anyone in the office was prepared for how great Melissa was going to be at her job. She was hired to answer phones, organize files, and keep things flowing in an orderly fashion. Instead, she has flexed her HR knowledge, and learned about bookkeeping that goes far beyond inputting receipts. She then announced she wanted to go back to school for medical laboratory science, however to our benefit, she changed her major to technical writer (her dream job). I think the entire company, specifically marketing and support, could see the clouds clear because we now have someone that knows the product and the ins of outs of the company and is able to produce all of our technical documents. Melissa is originally from Delaware and she moved to Minnesota from San Diego. She is an aunt to four amazing boys and a mother to her dog, Jamie. She loves to read, crochet, hike, listen to true crime podcasts, and be a part of nerdy fandoms. "I love my coworkers; some of my best friends work here. You're given the ability to try new things and expand your talents without the fear of failure- someone will always catch you when you need it the most. That's incredibly unique for a company, and I'm the poster child of it".
Alissa Sundstedt is the Executive Assistant at 75F. She's special because I feel like our CEO Deepinder and Chief Evangelist Bob had been looking for an executive assistant for years, but something about Alissa stood out to Deep. Alissa grew up in various states due to her parents' jobs, and growing up, they always had a lot of land and horses. Her family currently lives out on the east coast, and you can find her visiting often. Her background is in athletic training and she graduated from the University of Arkansas for Kinesiology. Alissa and her husband, Martin, recently went to Colorado for a year-long fellowship at The Steadman Clinic. Work brought them both to Minnesota four years ago and they're happy to call the Twin Cities home. Not many willingly move to this beautiful tundra unless they are pulled here by some other force, but once you've experience what makes this place beautiful, it's hard to leave. Alissa's background is far from executive assistant, so I asked why she decided to make the career change. "You become the average of the people you surround yourself with. Since we spend a majority of our time at work, I want to surround myself with people who push me to better myself and encourage serving those around them. I am thrilled to say I've found that at 75F."
Bailie Morrow is the Supply Chain and Procurement Manager and our VP of Operations was able to convince Bailie in joining the team. Bailie said, "I ultimately wanted to be a part of a company that was changing the world for the better. I wanted to look back on my career and see that I made an impact in some way for the better." Bailie was born and raised in Minnesota. She went to college in Wisconsin for four years and then moved to St. Paul after graduation. She is very active outside of the office. She enjoys yoga, biking, running, and rehabbing old furniture. Minnesota is home to many breweries and cider houses and you can likely catch Bailie exploring a new one every so often. She likes being able to wear multiple hats as it allows her to experience different departments and work with the great people throughout the company.
Lauren French is the 75F Events Coordinator. I've known of Lauren since the beginning of my time at the company as she's the daughter of Bob French, 75F Chief Evangelist. "I've had the lucky opportunity to watch my father work with this company since its early days. When I heard there was an opening for an events coordinator, I didn't hesitate to apply."  Lauren and I are both a part of the Marketing team and it has been a joy to have her join the team because now she can focus on the job that was previously being done by three different people and she has made events much more manageable for the marketing team. Lauren was born and raised in Minnesota. When she's not at work, you're likely to catch her planning a Boundary Waters Canoe Area Wilderness trip, curled up with a book, drinking loads of coffee, or listening to live music. "My favorite part of my job at 75F is feeling like I'm contributing to a top-notch solution that will help the earth. [This Job] is the right blend of challenge and reward. That can be hard to find."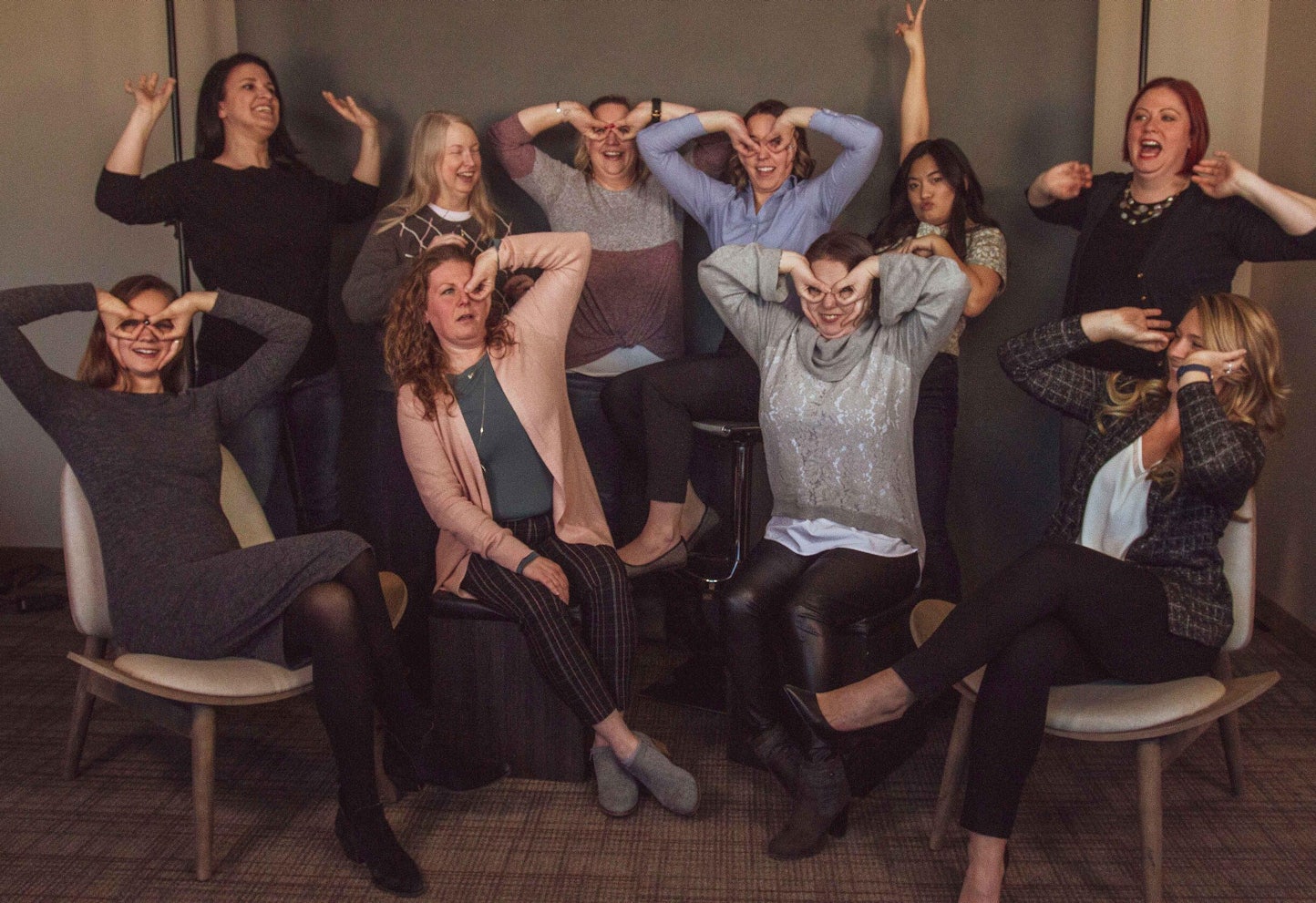 Stephanie Thiede is the Customer Success Manager. Her position was also one where she's creating it as she's learning about the company and our customers. Her job was something we could only dream about having, then it was a reality. Stephanie is a mother of two wild and crafty kids and married to a man of 15 years that continuously makes her laugh; her family has made her happier and stronger. What sparks joy in her life is getting outside and she loves to hike and RUN ULTRA MARATHONS. I'm putting it in all caps because that is some goddess level energy and we were all shocked to hear about it. Prior to joining 75F, Stephanie was at a point in her life where she needed a change and a place where she felt she can be her quirky self. "I am a person who believes that WHAT you need in life shows up WHEN you need it and that is exactly what happened for me with 75F. I found a place that I can grow with and in. It makes you think, stretch yourself and really try to excel. That is exactly what I needed and was looking for. I know that 75F will continue to push me for the better! From the time I stepped into the office I was welcomed with smiling faces and happy people. These folks KNOW what they want their company to be, it really is a group effort here."
Jen Egeland is taking recruiting and HR by the reins as we ramp up our hiring efforts. In her ten years in Human Resources, she's worn many hats, from Office Manager to HR Assistant and most recently, held the longest title at her previous company as Human Resources Information System Administrator (say that five times fast). She loves streamlining processes, nerding out on technology, and showing employees that the HR department doesn't have to be scary. Jen loves beer, being a theatre geek, checking out live music and being goofy with her two kids. She's super excited to be a part of 75F, though she finds it ironic that she left the Bay Area, home of the startup, to join a Minnesotan startup. HR can be a very hard job, and you sometimes feel like you're being pulled multiple directions. It doesn't make it better if you're bored and feel stagnant at your workplace. "…I wanted a career that would push me outside of my comfort zone and encourage me to grow and learn new skills. I have the chance to create that for myself and to help create a lively, fun, supportive workplace for my team and I'm ready to tackle that challenge." 
Renee is the Finance Specialist at 75F. She has been an accountant for many years and holds experience in all facets of the industry. Her hobbies include quilting, reading, training her dogs, and volunteering; her favorite way to volunteer is taking her therapy dog to visit residents in nursing homes. From a task perspective, her favorite part of the job at 75F is being able to help get processes and procedure set up and running. I can say from my bottom of my heart, our lives are so much easier having her here. In a general perspective, she says "I love the people I work with and being part of a team that is working to make a positive impact in the world". She likes that she's working for a company that has a green focus and the product is green and will have an impact on the world. "It gives me a chance to contribute to something great and make a positive difference."   
Ellie Mitchell is the Inside Sales Assistant where she makes the lives of the entire sales team easier and less stressful. She is highly organized and follows through on everything she has to do and was one of the first women hires of 2019. She is absolutely one of the reasons why coming to work is more fun. I can always count on being greeted by her positive attitude and even when she might be having a bad day, we both commiserate together...two negatives make a positive. I continuously hear our Chief Evangelist Bob praising Ellie at least once a week, as she's keeping track of multiple schedules simultaneously. She works across almost all company departments. She's a superwoman! Ellie has spent the majority of her career in the cosmetology industry where she has been a stylist, business owner and instructor. After ten years in the business she decided to go back to school and graduate with a bachelor's in business management from Bethel University in 2012. She grew up in Minneapolis, but family and motherhood moved her out to the burbs in 2017 where she currently reside with her fiancé, Andy and their three beautiful children and puppy. Motherhood keeps her very busy but she loves to cook and vacation to the beach when time allows.
"The thing that I like the most about working at 75F is being a part of such an innovative company. My position keeps be very busy. I love that I've been able to help create my position and being a part of a growing company."
I'm Kelly Huang and I'm the Video Content Manager. If you have ever perused our company website, you've most likely came across a video with my face or voice in it. I've been creating videos for 75F for the last four years. I came to 75F as a freelancer which quickly turned into a full-time job. A couple years ago, I saw this position as something that would lead me to my next adventure in a film career. It wasn't until the end of 2019 when I truly started to realize this was the place I really wanted to be. I can objectively say that the employment of more women is one of the reasons I feel more secure and happy at 75F. The reason why this company fits so well with my life at the moment and has always fit is how flexible everything can be. The team is supportive of you outside of work and it feels like a family. It's a dream to be a part of a company that can invest in you and support you. My coworkers support me to help get task done and they show interest in activities you do outside of work. I'm an active theater performer in the Twin Cities. I'm taking Chinese lesson, and I work part time as a video production assistant at a TV station. I'll probably slow down soon. 
If you made it all the way to the end, thank you!