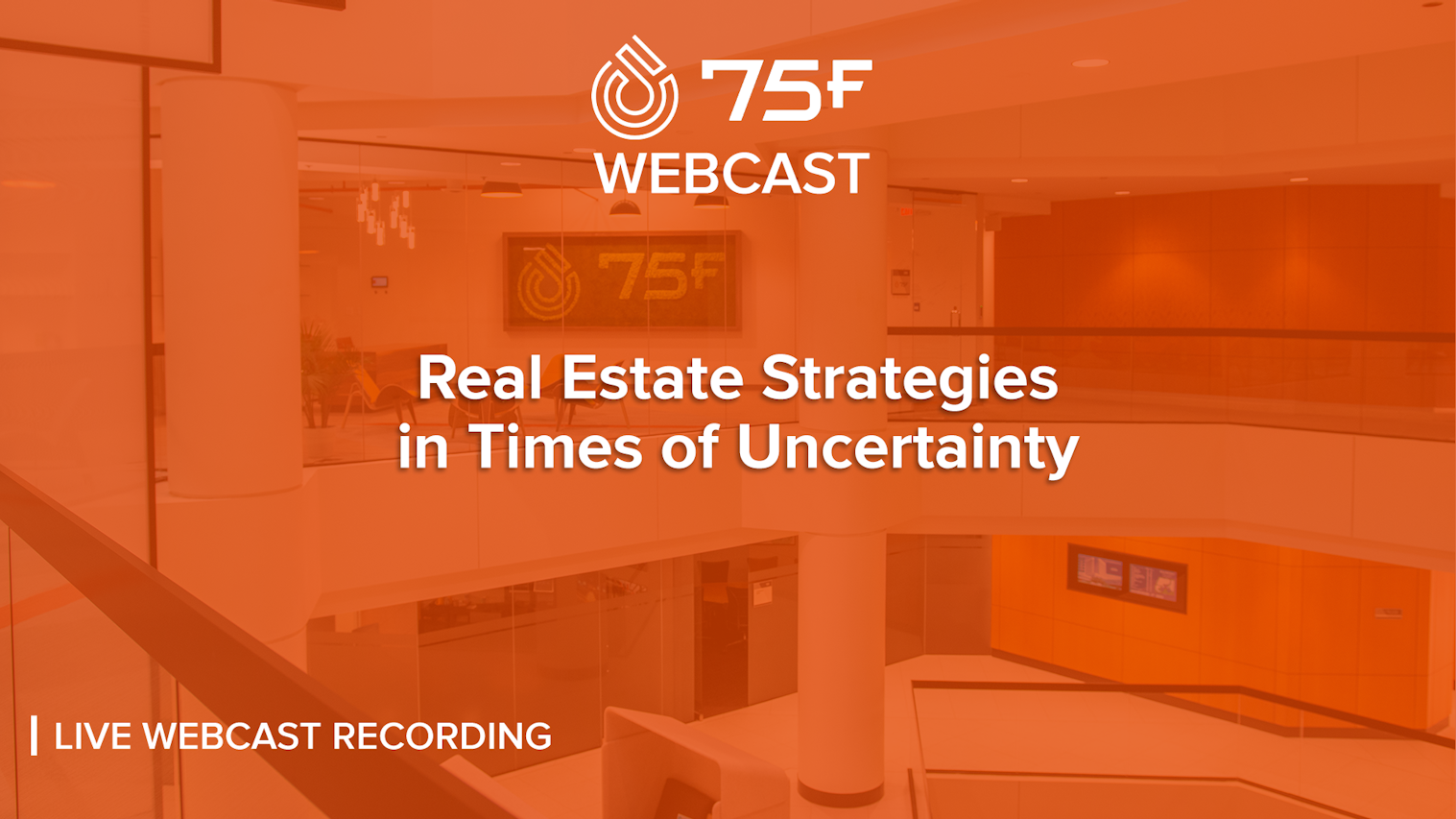 Healthier Buildings Series: Real Estate Strategies in Times of Uncertainty
Commercial real estate is in a completely different landscape today than it was 12 months ago. In this webcast, 75F pairs with The Brookshire Company to examine the current state of CRE and delve into action steps real estate professionals and facility managers can take to better position their assets for a post-pandemic market. 
Webcast hosts are 75F Chief Evangelist, Bob French; Gerry Norton, President and Managing Director at The Brookshire Company; and Justin Erickson, The Brookshire Company's Economic Development and Labor Specialist.
Norton has more than 30 years of experience in corporate office and industrial real estate, specializing in advisory and consulting services. He has extensive experience with site selection, tenant representation, acquisitions, dispositions and satisfying real estate objectives of his clients. For over 12 years, Erickson has been instrumental in helping a variety of companies find the right state and the perfect city for their expansion or relocation needs. His accurate assessments of labor availability and his ability to structure financial incentive packages have been the keys to success in dozens of perfectly suited site selections.
The above webcast replay is free to watch at any time, and so are previous 75F webcasts. Continue reading for an overview of this session.
The Current State of Real Estate
Since March, COVID-19 has shuttered commercial buildings around the globe. All these months later, the work-from-home trend that ensued is playing out differently across the office, retail, and industrial sectors of CRE, and geographical zones, as well. 
Where suburban areas are seeing a slight return to pre-COVID-19 employee presence in the office, offices in a downtown setting are still seeing 85 to 99 percent vacancy rates, Norton explains in this session. As predicted, the retail and hospitality sectors are largely crippled by low turnout and safety regulations. In contrast, the industrial market remains a robust sector of real estate — despite the pandemic, Norton explains that direct-to-consumer sales will be up by as much as 30 to 40 percent due to online purchasing in quarantine. 
Recent announcements regarding potential COVID-19 vaccines bode well for a start toward recovery that could come to fruition in mid-year 2021, Norton predicts. 
Presenters also touch on the recent presidential election and its potential impact on CRE, 1031 exchanges, supply chains, and in-store purchasing trends.
The Future of Commercial Real Estate 
As landlords, facility managers, and those in the built environment look to the future, positioning their assets as clean, healthy spaces will be more vital than ever, even with a COVID-19 vaccine. 
While short-term viral mitigation strategies such as bipolar ionization and UV lights are easy checklist items, investing in more advanced systems that make buildings fundamentally more healthy, comfortable, and efficient is a smarter long-term move, presenters point out.
"There are some additional steps that I think people can take, and it becomes a marketing advantage," Norton explains. "That's a clean building system. From a tenant perspective, they're going to want to experience that."
"There should be a mix between short-term and long-term strategies," French adds, "but the marketability of an asset, a clean asset, is going to take a long-term investment approach."