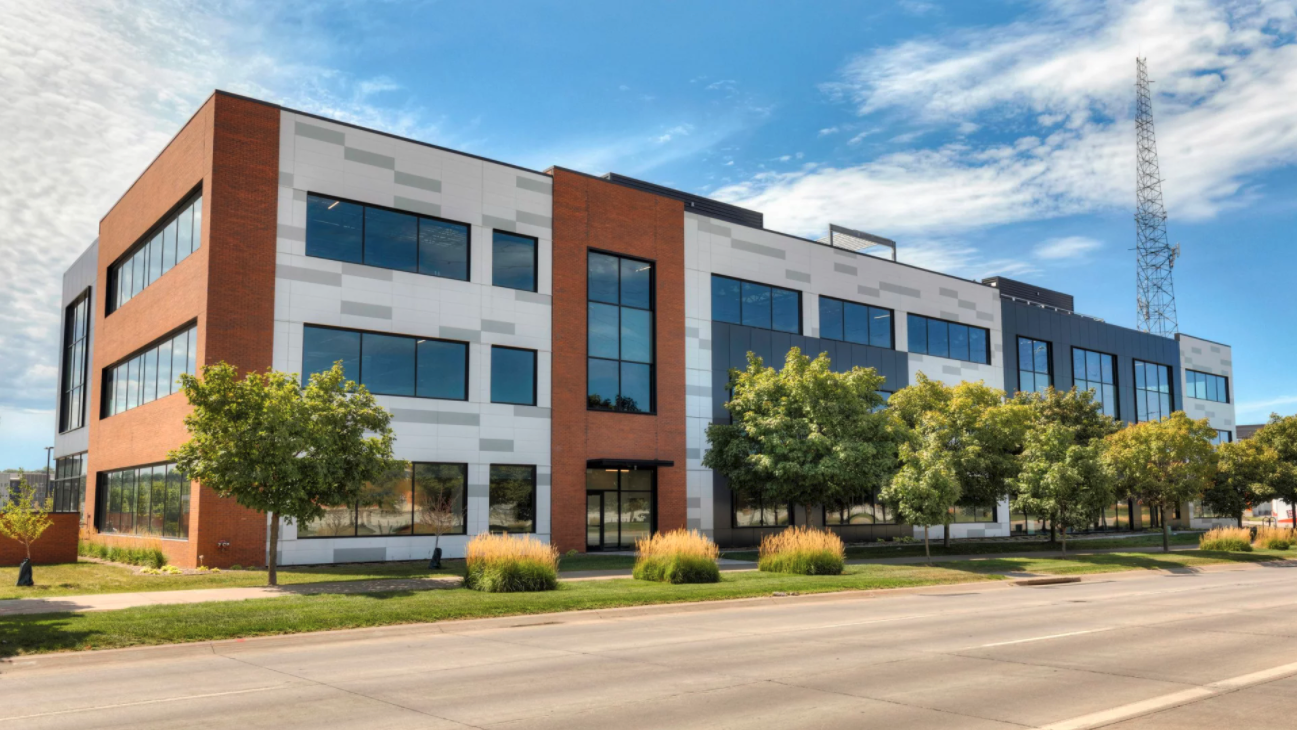 75F Makes IntelliPak RTU Integration Simple in High-End Office Space
Gray's Landing is a mixed-use complex in downtown Des Moines, IA, featuring high-end office, retail, hotel, and apartment spaces. A natural extension of downtown, the 35-acre complex blends urban energy, nature, accessibility, and tranquility. 
As the developer and owners (Sherman Associates) and the property managers (Hubbell Realty) planned for the opening of a new Class A office space within the complex, tenant attraction was top of mind. To optimally market the new space, Hubbell Realty sought a building controls solution to enable safe, comfortable, healthy and sustainable indoor environments. Importantly, the controls solution needed to be smart, open source, and compatible with future building upgrades to ensure continuous modernization. 
The location's Trane IntelliPak rooftop unit (RTU) also presented an opportunity for increased energy efficiency and needed a controls solution that could easily integrate with the equipment. 
Hubbell Realty installed 75F's IoT Building Management System (BMS) with goals to set a flexible foundation for future upgrades, implement proprietary sequences for efficiency and indoor air quality (IAQ), and effectively control the Trane IntelliPak RTU. 
Solution
75F deployed proprietary applications Smart VAV with Reheat and Outside Air Optimization. As part of the implemented software, Hubbell Realty also gained access to 75F® Epidemic Mode™, a custom sequence of operation that automates outdoor air ventilation during a pandemic based on the latest guidance from the CDC and ASHRAE. This sequence is optional and easy to deploy with just a few clicks.
To control the Trane IntelliPak RTU, 75F connected the VAVs to a 75F® Central Control Unit™ (CCU), integrated with a generic building automation system (GBAS) controller, and scaled the discharge air temperature for heating and cooling and the VFD fan speed. This way, 75F was able to control the unit based on the load in the space rather than the unit acting as standalone equipment, leading to higher efficiency. 
Other hardware across 29 total zones included two CCUs, two CO2 duct sensors, two airflow temperature probes, two current switches and sensors, two outdoor air thermistors, two Belimo damper actuators, two Belimo valve actuators, two 75F® Smart Nodes™, and 17 75F Smart Nodes™ with Local Interface Sensors. Project partners included Sherman Associates, Hubbell Realty, and Air-Con Mechanical. 
Result
75F's IoT BMS enables out-of-the-box automation and analytics in commercial buildings of all sizes. With built-in ASHRAE GPC 36 sequences, Project Haystack native API, integrated digital twin, and secure cloud-based operation, 75F delivers unprecedented energy efficiency, interoperability, and scalability unlike anything else on the market.
The 75F solution includes wireless sensors, equipment controllers, and cloud-based software. 75F's wireless sensors, placed in each zone, capture millions of data points daily. These data points are uploaded to the cloud via a 900 MHz wireless mesh network and combine with a live weather stream and forecast data so 75F's AI can predict optimal control strategies.
The IoT BMS's highly modular structure gives Hubbell Realty the foundation they need for new tenant build-outs and future integrations, as well as a more healthy, sustainable, and efficient space. 
After a second 75F installation to accommodate new tenants, the realty group is already planning a third. Thanks to the system's modular setup, Hubbell Realty only needs to add Smart Nodes and Intelligent Temperature Motes to the newly occupied spaces, making these additions fast, inexpensive, and simple. 
75F
®
Epidemic Mode™
75F® Epidemic Mode™ is a sequence of operations designed to maintain healthy and safer indoor environments for all 75F customers in the event of a pandemic. This sequence was one of Hubbell Realty's primary motivations for selecting 75F.
The sequence is based on the latest guidance from scientists, government organizations, and global industry leaders. As recommendations from these authorities evolve over time, Epidemic Mode will update over the cloud to implement the most current strategies to minimize viral transmissions, all while balancing for energy efficiency. 
Epidemic Mode operates through specific application profiles Smart Purge and Smart Enhanced Ventilation. Both profiles are free of charge to users with 75F® Outside Air Optimization™ and are ready to use out of the box — no manual programming required. Once a pandemic is controlled and guidelines ease, 75F users can turn the special sequences off with a few clicks.