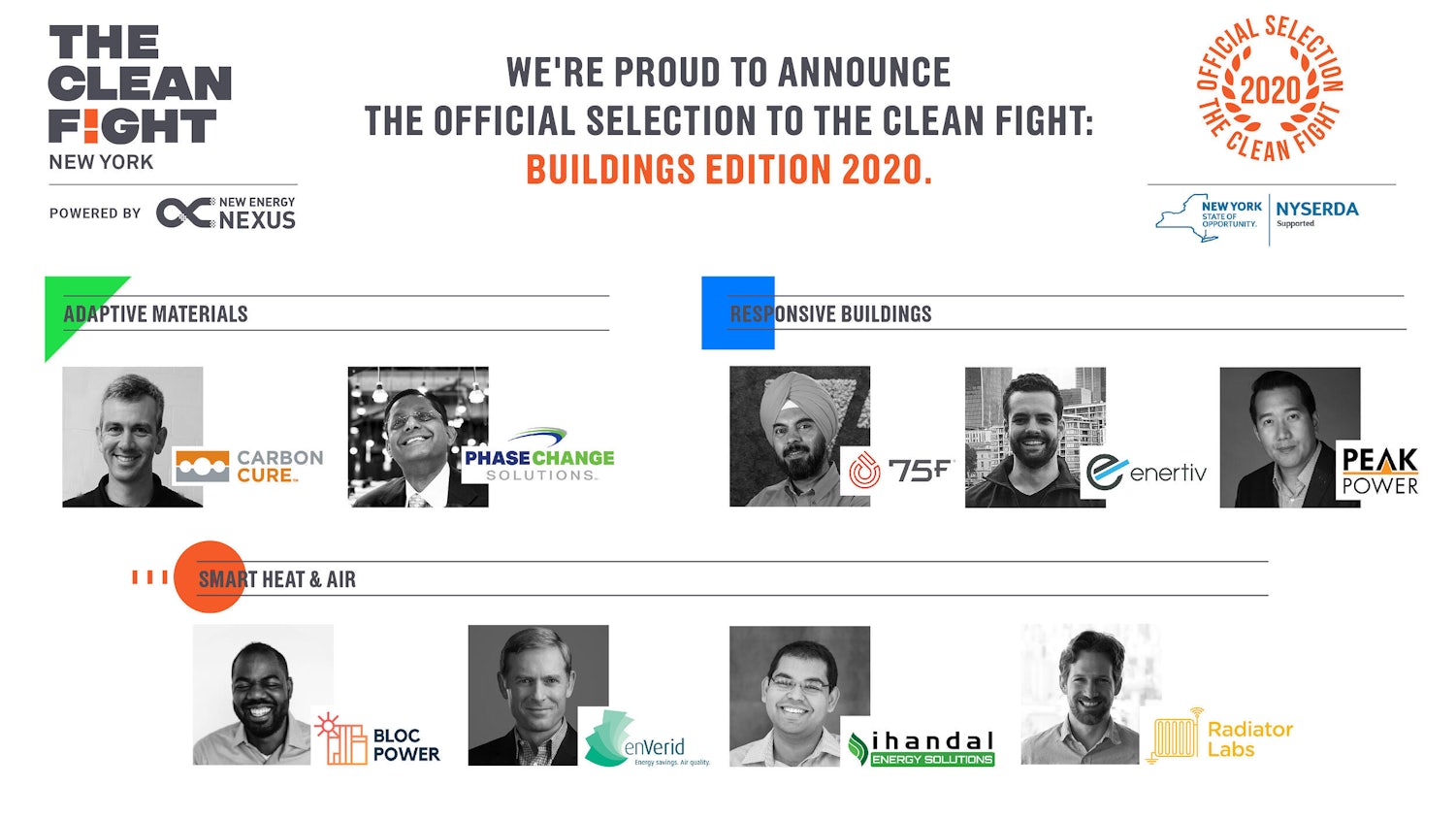 75F Joins Inaugural Cohort of The Clean Fight, a Targeted Effort to Decarbonize New York
Saving our planet is going to be one hell of a fight. We're proud to announce The Clean Fight New York has selected 75F for its inaugural cohort of clean energy companies to target decarbonization in the Empire State.
The Clean Fight New York is a not-for-profit accelerator supported by the New York State Energy Research and Development Authority (NYSERDA) and New Energy Nexus. In its flagship year, the organization identified nine clean tech companies in growth stages that are poised to make a difference in energy efficiency and carbon footprint reduction, and fast. Their mission: Help New York state meet its ambitious sustainability goals.
The organization selected companies with solutions that reduce energy usage and emissions while making tenants healthier and more comfortable. Selected companies also have the ability to scale rapidly and are easily adoptable financially.
"Our partners are not backing down from their sustainability goals, despite the impacts on the real-estate industry from COVID-19. They're taking the long view, leaning in and supporting the innovations that will help their businesses and others decarbonize" Kate Frucher, Managing Director of The Clean Fight, said in a press release.
Who are the Other Clean Fighters?
75F joins eight other companies that are ready to scale significant change in the next decade. Who are they, and how will they make a difference? Check out their company descriptions provided by The Clean Fight below.
CarbonCure Technologies
This Canada-based company saves CO2 from heading into the atmosphere by permanently embedding it into fresh concrete during mixing, resulting in concrete that is both greener and stronger. It only takes one day to retrofit a plant, and costs nothing upfront.
Phase Change Energy Solutions
Based in Asheboro, N.C., this company uses their unique heat-storage materials to keep buildings at a consistent temperature, reducing heating and cooling needs. Their easy-to-install phase change materials absorb heat when temperatures exceed a desired target and release heat when the temperature drops below it. One inch stores as much heat as a 24-inch thick block of concrete.
BlocPower
Brooklyn-based BlocPower is bringing financially underserved communities the economic, health, and environmental benefits of greening the heating and cooling of their buildings, through leasing and managing air-source heat pumps with zero upfront costs.
enVerid Systems
Headquartered near Boston, enVerid Systems is the first air purifying technology to clean indoor air at a molecular level. This not only results in healthier buildings, but massively reduces the need for outdoor air intake traditionally required to maintain air quality, and its resulting heating and cooling demands.
iHandal Energy Solutions
Headquartered in Malaysia, iHandal Energy Solutions uses its proprietary technology to allow for hyper-efficient temperature control of buildings by capturing wasted heat and recycling it for heating or cooling.
Radiator Labs
Brooklyn-based Radiator Labs is bringing steam heat into the 21st century with smart radiator covers that disperse and regulate heat, preventing excess energy usage, costs and discomfort from overheating buildings. Plus, it finally allows tenants to control the temperature of their own apartment.
Enertiv
Based in New York City, Enertiv uses sensors and software to digitize a building's heating, ventilation and air conditioning equipment, enabling equipment-level insights and control to maximize efficiency, resilience and deep energy reduction.
Peak Power
Toronto-based Peak Power's AI-powered software platform turns buildings into virtual behind-the-meter power plants, helping to make the grid more resilient while unlocking new revenue streams for building owners.