75F Outside Air Optimization (OAO) combines hardware, software and real-time weather data providing advanced sequences of operation from rooftop economizers to built-up air handlers in a wide range of commercial buildings. This application has three primary benefits: improved energy efficiency, reduced comfort complaints, and enhanced ventilation and indoor air quality in high traffic areas.
See the Guide to OAO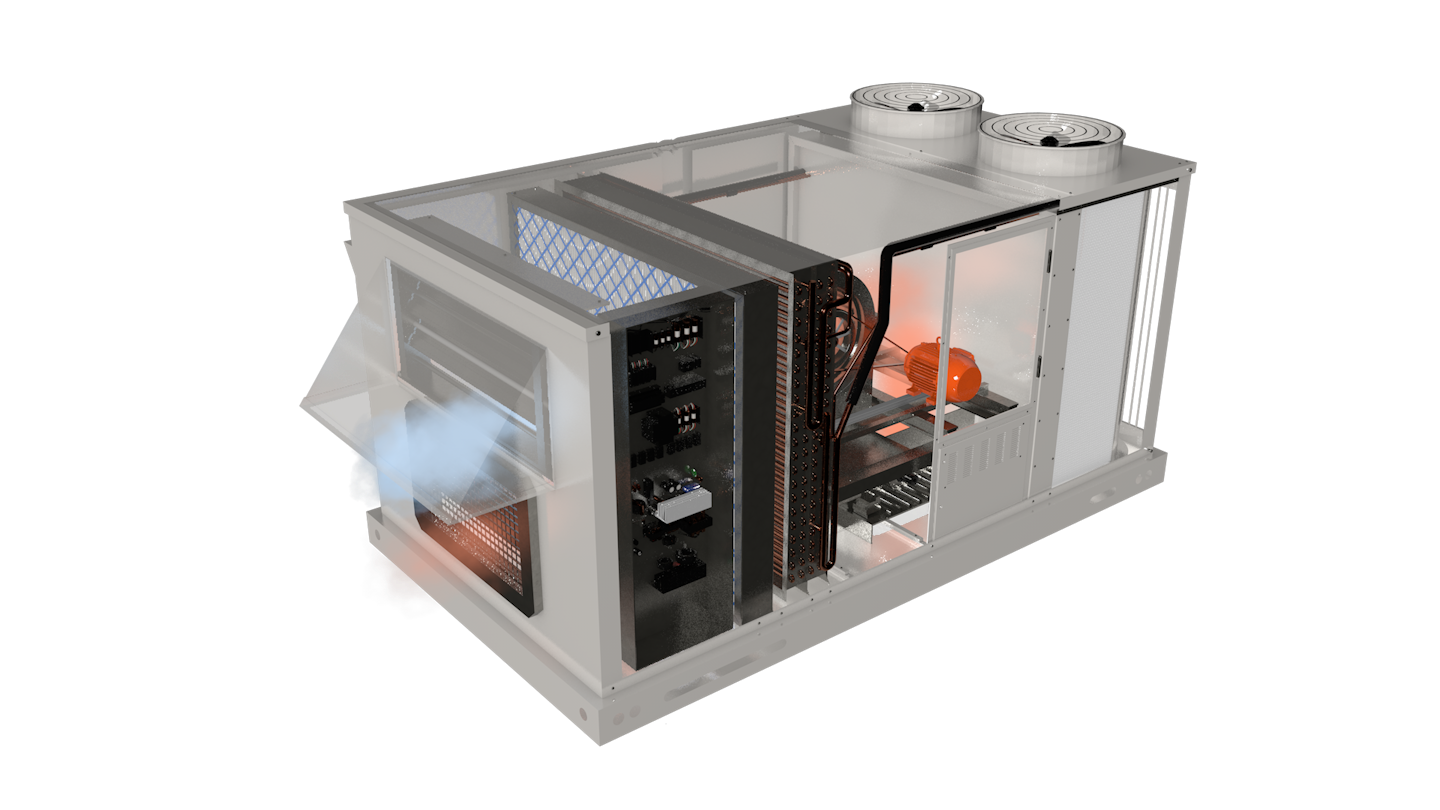 Efficiency Savings
OAO has been studied by the National Renewable Energy Lab in the US and proven to deliver total energy savings of 12% a year. Smaller customers see savings of up to 33% with modulating control.
Reduced Complaints
Cutting edge technology optimizes outside air to achieve an ideal outside air fraction and mixed air temperature automatically, for maximum occupant comfort.
Improved IAQM
Many sensors and systems can monitor indoor air quality, but few can manage it as well. With 75F's cloud enabled system, modulating dampers insure IAQM is always optimized. 
Advanced Economizers
Economizing and Demand Control Ventilation sequences with OAO provide 3X more free cooling than competiting economizers, and much greater comfort for guests and occupants.
Better Pressures
Customers use OAO to maintain pressure inside their buildings while coordinating return and outside air dampers more predictively and accurately than on-premise systems 
Faster Install
OAO works out of the box with no networking, programming, or hours of pulling com wires. It is used on everything from simple rooftop units to fully built-up custom AHUs.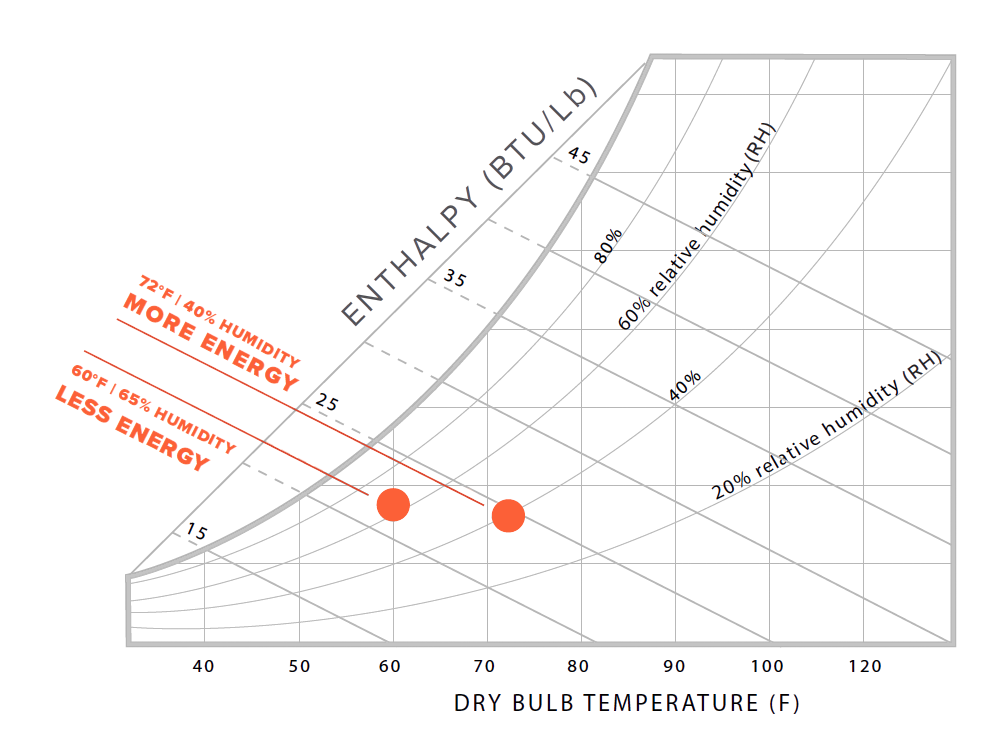 Ventilation from fresh outside air is both critical to the health and productivity in buildings and the most expensive and inefficient part of many HVAC systems. Buildings shelter us from the elements as we gather to work together, and bringing hot or cold air inside to improve air quality often requires conditioning it which comes at a cost. OAO is a proprietary application that works out of the box to optimize all three of those variables, using sensor data and machine learning algorithms in the cloud to analyze the internal and external air quality and maximize ventilation.
Demand Control Ventilation, or DCV, uses CO2 levels in the air to understand the occupancy and ventilation needs of each zone in a building, adjusting the ventilation rate in occupied spaces in an incremental way. This is based on either the return air CO2, or a Trim and Respond system for zone-level DCV. Rather than ventilating all building spaces equally, the optimization of outside air comes from these preconfigured sequences which redirect air where it is needed for temperature or ventilation, reducing preventative and unplanned maintenace costs and reducing energy costs, all while measurably improving comfort and indoor air quality.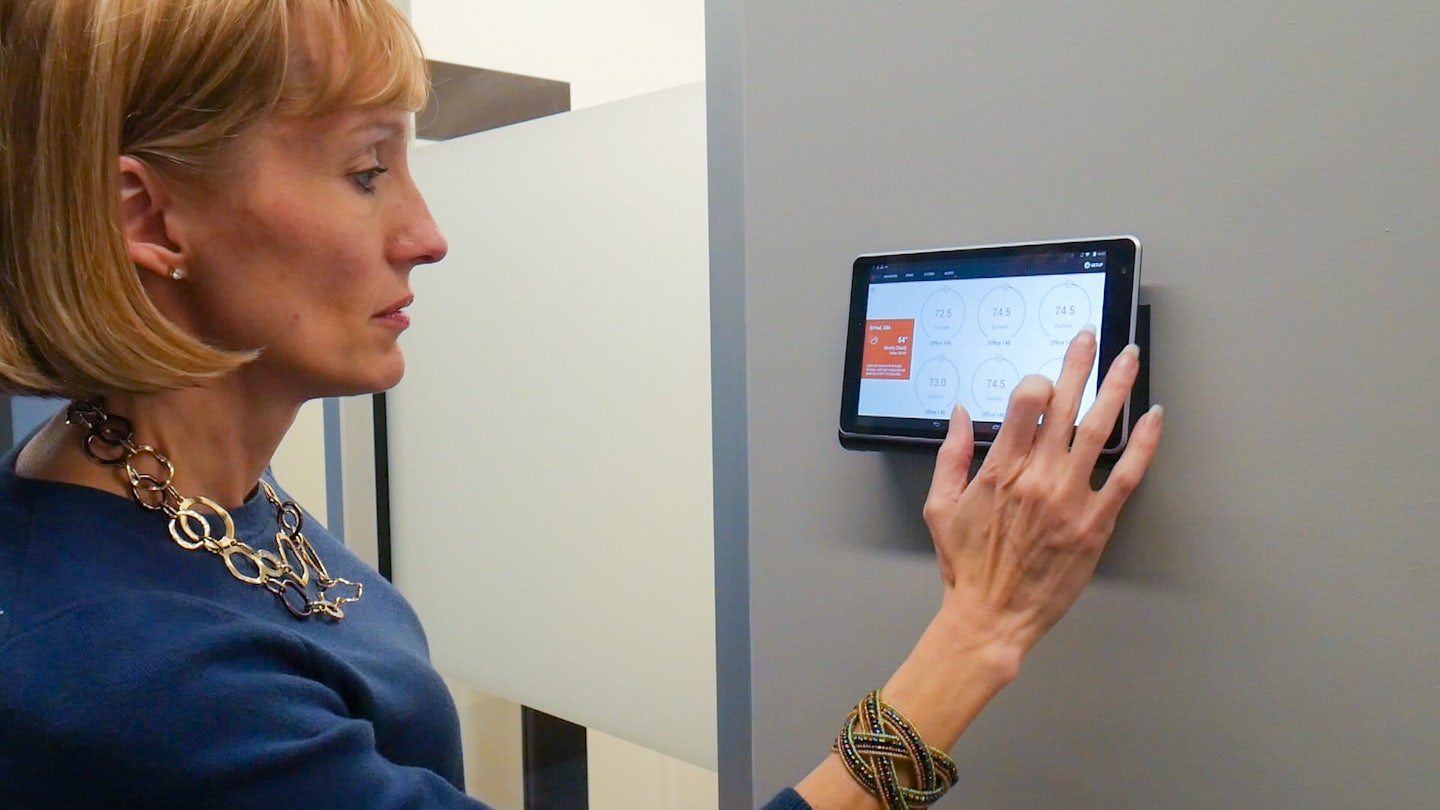 Bringing in outside air can often reduce expense by taking advantage of free cooling. Advanced economizer control takes into account weather forecasts, historical data, and a thermodynamic model of each customer building in the 75F Cloud to adjust outside air dampers in a coordinated way based on the enthalpy, or temperature and humidity of the air.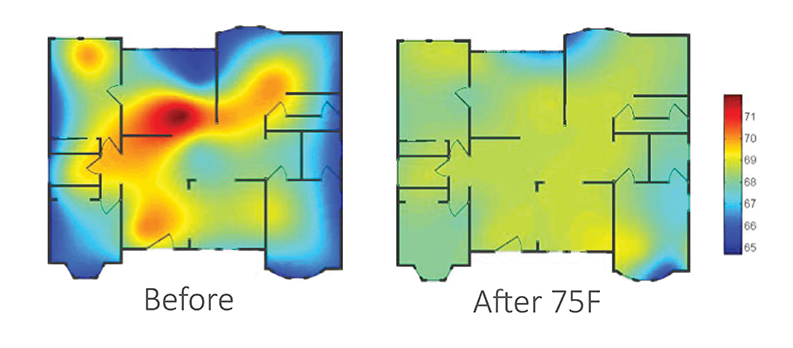 Comparative enthalpy economy from 75F uses real-time outside enthalpy data and constantly compares it with real-time indoor enthalpy data to lower energy costs and improve efficiency through free cooling. Not only does the system compare the two enthalpy values, it also calculates the final enthalpy of supply air when heated up to indoor levels using psychrometric logic to ensure the resulting air meets a desired target. The result consistently delivers three times more free cooling than a basic economizer with much better comfort for guests and occupants.
The 75F Outside Air Optimization kit includes a CO2 sensor in the return duct of the air handler to measure the average indoor air quality of the building's envelope. When occupancy is high, 75F will modulate the outside air damper to ventilate with fresh air until healthy indoor air quality is achieved.
Other sensors such as CO and NO2 sensors, can be added to this sequence for spaces like parking garages, manufacturing or warehouses. The 75F outside air sequence includes a control point to activate an exhaust fan based on how much outside air is entering the envelope.
Variable-frequency drive (VFD) fan control pairs with the OAO application to deliver advanced rooftop controls. The 75F system can provide native VFD control with field-adjustable tuners, saving the user valuable time and energy.
Optimal Indoor Air via Optimized Outside Air.