75F VAV with Reheat™ reduces install cost, improves energy efficiency, and delivers remote control and diagnostic capabilities to Variable Air Volume (VAV) zone controls systems. Where traditional VAV systems can be costly and inefficient, 75F has encapsulated newer ASHRAE-recommended advanced VAV control sequences. This application modernizes and acknowledges today's fully modulating RTUs and AHUs. The complete VAV system is wirelessly connected and works out-of-the-box with zero programming required.
See the Guide to VAV
45% Savings
Independent, third-party studies of 75F system profiles by a major utility have proven customer savings of up to 45 percent compared to traditional systems.
Incredible Value
An advanced system that installs out of the box and scales to buildings well over a million square feet, all with an easy-to-use interface and zero networking or programming.
Healthier Buildings
With temp control in every zone and built-in Indoor Air Quality (IAQ) management of CO2, Volitile organic compounds (VOC's), and airborne particulates, your spaces can be safer and healthier.
Predictive Comfort
Every 60 seconds, encrypted sensor data flows to and from the 75F cloud, and predictive machine learning algorithms make thousands of simultaneous micro-adjustments to optimize comfort.
Remote Access
Customers appreciate a fully wireless and self-balancing system with remote monitoring and reconfiguration, all connected via the 75F Facilisight web portal and 75F Occupant App.
Flexibility
Bring energy and performance improvements with pre-configured sequences of operation for common HVAC equipment types such as VAV staged rooftop units, fully modulating air handling units, and staged rooftop units with VFD fan.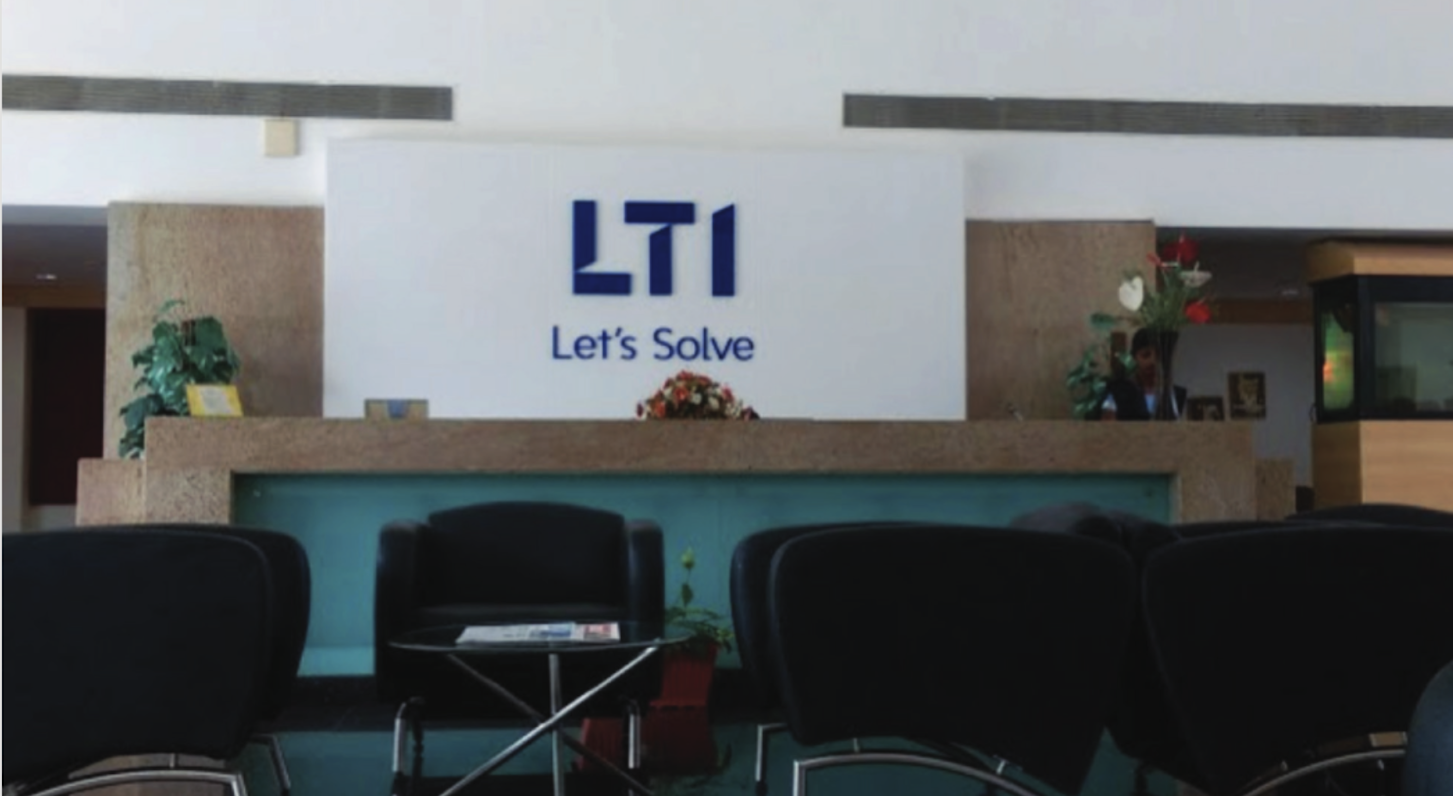 Smart VAV with Reheat is a full-stack solution with components that include sensors connecting to the cloud for analysis, a 75F® Central Control Unit™ (CCU) as a supervisor with built-in wall interface, 75F Smart Nodes as terminal equipment controllers, third-party units with actuators or 75F Smart Dampers, and Facilisight, 75F's building intelligence suite of web and mobile apps for secure remote monitoring and control.
75F's sensors connect to wireless controllers called Smart Nodes placed in each zone, capturing thousands of data points a minute and millions of data points daily on temperature and humidity throughout the building envelope. Via a 900 MHz wireless mesh network, these controllers upload to the cloud and create a dynamic thermal model of your building. The 75F system anticipates heat loads and predictively and proactively controls the temperature and air volume in each zone.
With 75F's advanced algorithms and continuous feedback loops, customers can achieve the objectives that ASHRAE Guideline 36 outlines with an out-of-the-box solution for Variable Air Volume/Multi-zone AHU configurations. ASHRAE Guideline 36 and its correlated RPs (1455, 1547, 1587, 1747) provide the mechanical design community with a resource to deliver uniform, high efficiency control sequences for HVAC systems.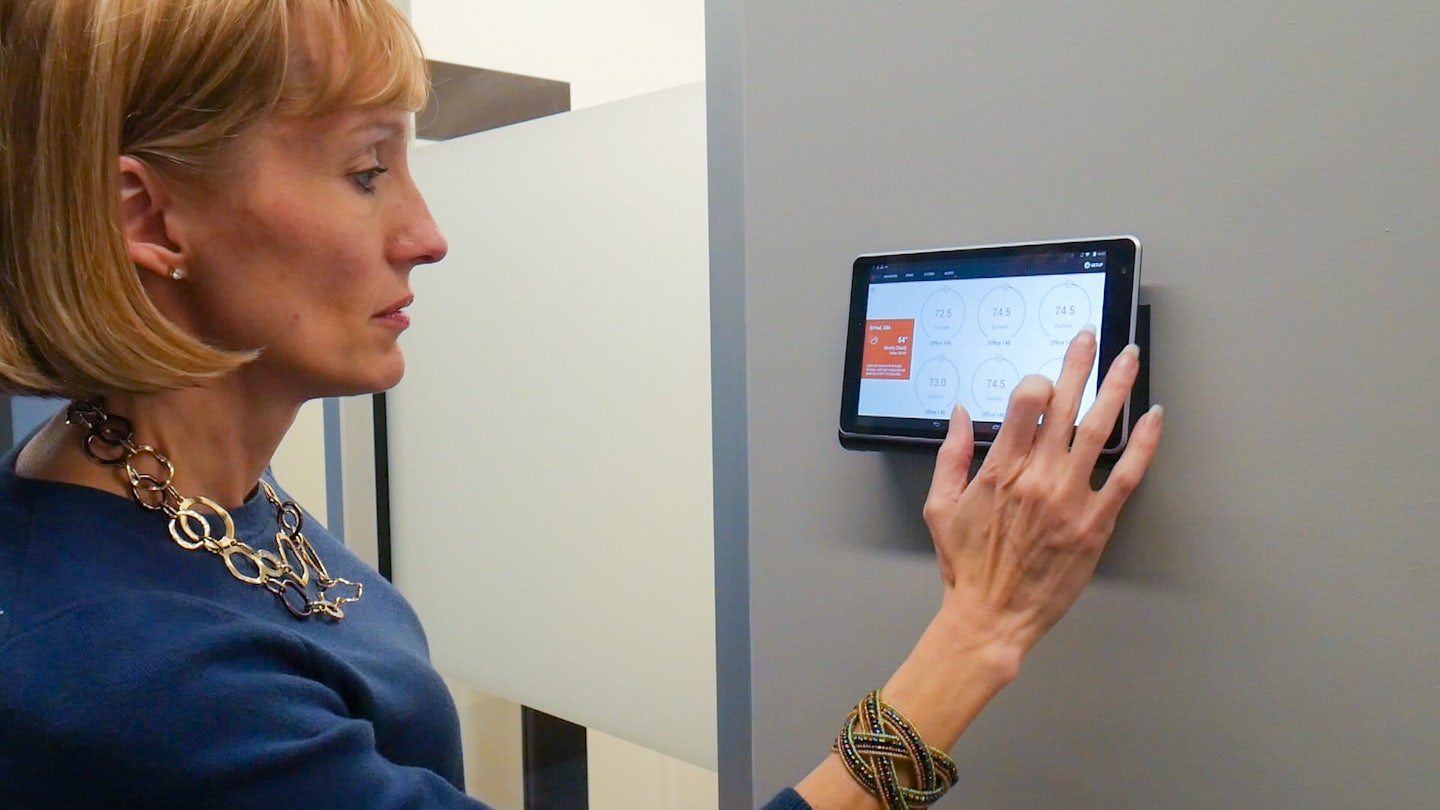 75F Smart Node wireless controllers in each terminal unit collect hard-wired sensor data such as zone temperature and humidity that is wirelessly transmitted to the 75F Central Control Unit™ (CCU) for holistic load calculations and central air handler control. In addition to hydronic and electric reheaters, the Smart Node is designed to control damper actuators, parallel fans and series fans from the same device. Airflow temperature sensors deliver entering and discharge temperature data to the Smart Node, and wirelessly to the CCU.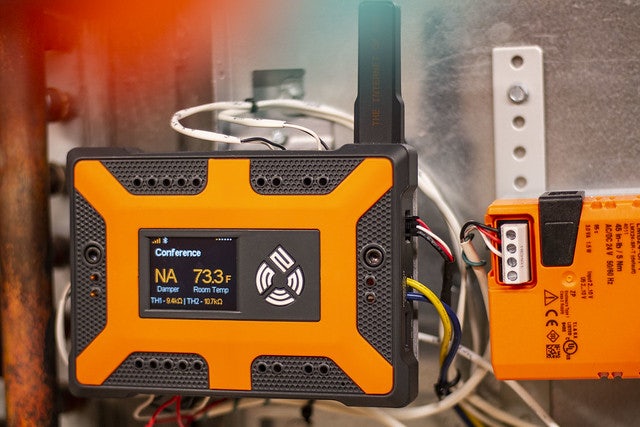 Whether you oversee one or many locations, onsite or remote, 75F VAV with Reheat makes managing your buildings a breeze with the 75F Facilisight® suite of web and mobile apps. Gain insight into your building's HVAC system. View and adjust air temperatures, check system performance and create custom schedules via the portal or mobile app. Our Global Policy Editor allows you to push updates to multiple locations with one click, making your workflow far more efficient.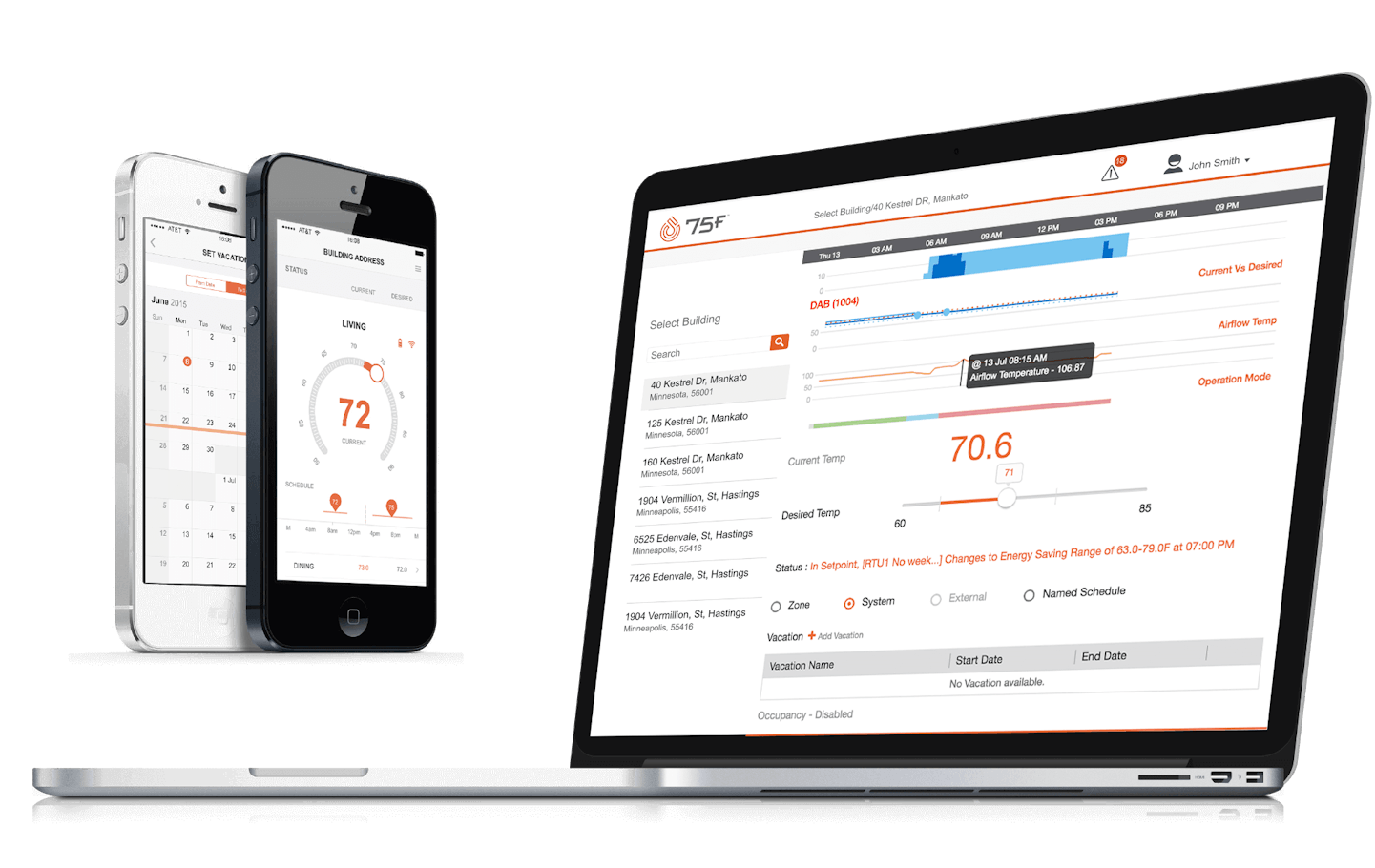 Todd Westby, CEO and President of TurnKey Corrections and Three Square Market, was looking for a high tech system with cloud computing for their HVAC system. Todd was referred to 75F and was head-over-heels for the features that 75F offered. We installed VAV with Reheat in their 50,000 square foot office. Watch the video to learn out more.