4 Reasons Why 75F is Perfect for Engineers
Struggling to deliver buildings to clients as you designed them? Looking for a way to ensure commissioning is done right, without corners being cut? 75F offers an easily-installed, IoT-based Building Management System (BMS) that delivers sophisticated HVAC control, indoor air quality management (IAQM), and analytics, while reducing utility costs by 30-50%. Our system comes at a fraction of the installed cost of comparable systems and is the winner of the Global Customer Value Leadership Award in Building Automation per independent research by Frost and Sullivan. 
Here are 4 ways that our automatic, continuously commissioning BMS has your back and can help you not only support operational efficiency and sustainability initiatives, but also improve the occupant experience starting Day 1.

1. Sustainability & Energy Efficiency
75F® Continuous Commissioning™ responds to the building's needs and predictively and proactively keeps the system optimized. By continuously monitoring a zone's needs, analyzing weather forecast data and controlling the flow of conditioned air, our system effectively manages a building's energy loads. This process saves money and energy – in fact, 30-50% in total energy costs, on average.
75F is partnered with the United States Green Building Council (USGBC), the Green Building Certification Institute (GBCI), the International WELL Building Institute, and are members of the United Nations Environment Program (UNEP).
Our building intelligence solution:
Contributes up to 38 Leed v4.0 points

Helps deliver WELL Building 2.0 Standards for air quality standards, ventilation effectiveness, increased ventilation, humidity control and air quality monitoring & feedback, right-out-of-the-box

Features Arc Platform Integration for Building Performance Scoring & Indexing 
2. Easy to Install
Give your clients the gift of the world's smartest, out-of-the-box BAS that implements ASHRAE RP-1455/ GPC 36 "Advanced Control Sequences for HVAC Systems" and is sure to deliver exactly what your design intended. 75F keeps the system current as ASHRAE updates recommendations and publishes the commissioning results in a report that gives you transparent insight. Tools, such as user portal 75F Facilisight and its analytics dashboards, let you verify that the building is performing to the designed spec. 
Our system is famously quick to install thanks to our wireless mesh network. Contractors from Midland Heating & Air Conditioning were able to complete commissioning of 63 offices at The Reserve's Co-working space in just five hours.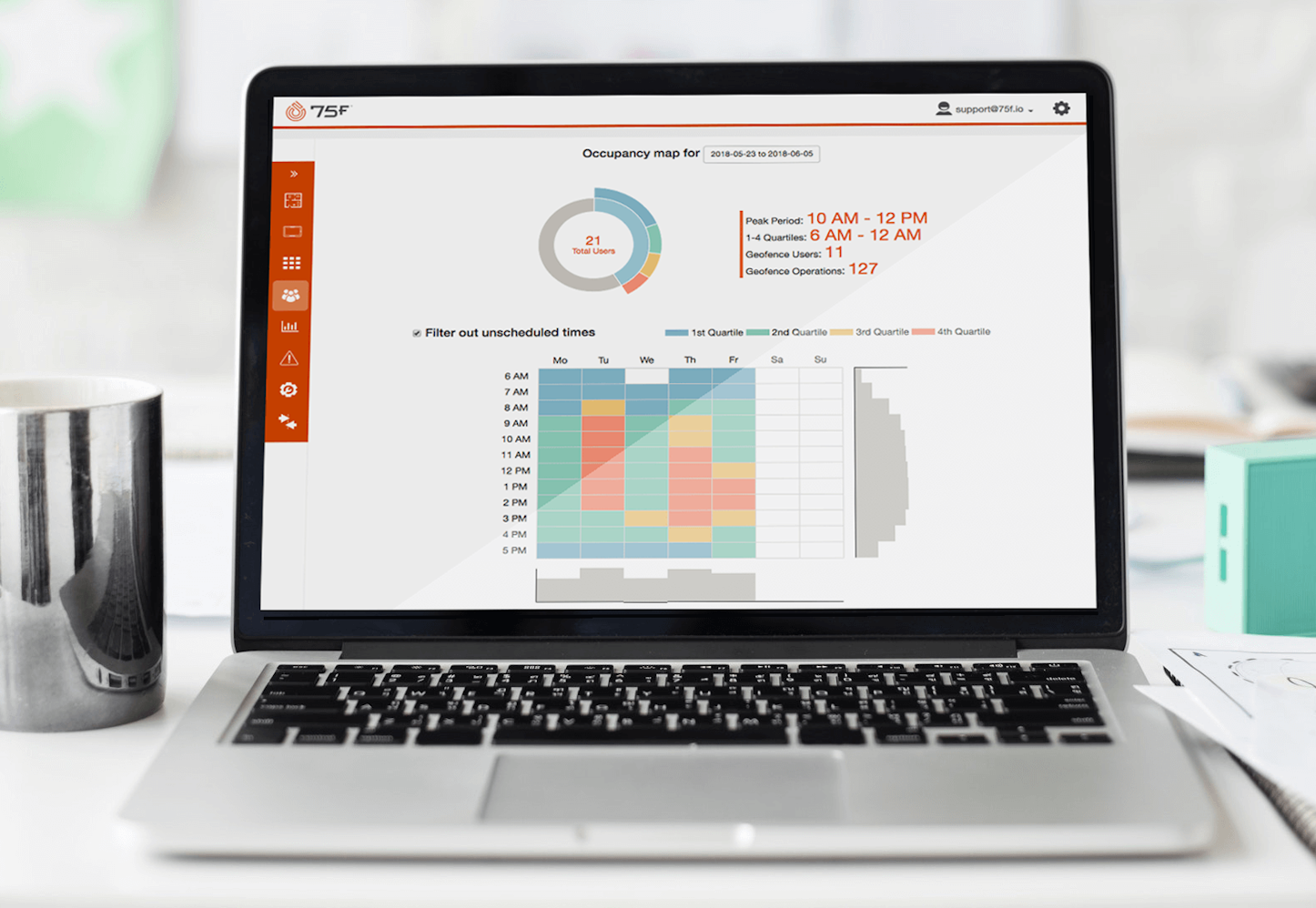 3. A Better Occupant Experience
The 75F® Occupant App™ empowers employees with control over their personal zones with the ability to adjust temperatures and lighting. Tenants can provide ratings and feedback to management about their working environment conditions, making it easier for facility managers to keep track.
Increase efficiency with the ability to manage your entire system with Facilisight — geofencing capabilities sense arrival and precondition employee zones to match personal preferences. Gain deep insights into building occupancy patterns through the occupancy map and see correlations with indoor environmental conditions from temperatures to CO2 levels to sound decibel levels.
"I've found 75F to be a real helpful tool in going after my commercial customers. It allows me another option to help [our customers] control their buildings and create energy savings, thus adding value for that building owner."
4. Reliability
75F uses modern technology, such as cloud computing, the Internet of Things (IoT), Artificial Intelligence (AI), wireless mesh networking and mobile apps, to ensure a system that is reliable and up-to-speed. Mesh is considered the most reliable and secure network available. Unlike a traditional network, it has multiple connection points, which means multiple chances for backup if one point of the network were to fail. 
Our backend-as-a-service provider (BaaS) automatically backs up application and configuration data on an hourly basis and retain backups for up to 30 days. In addition to hourly DaaS backups, we also back up your data daily in two additional places: the CCU and a separate service provider for maximum security.