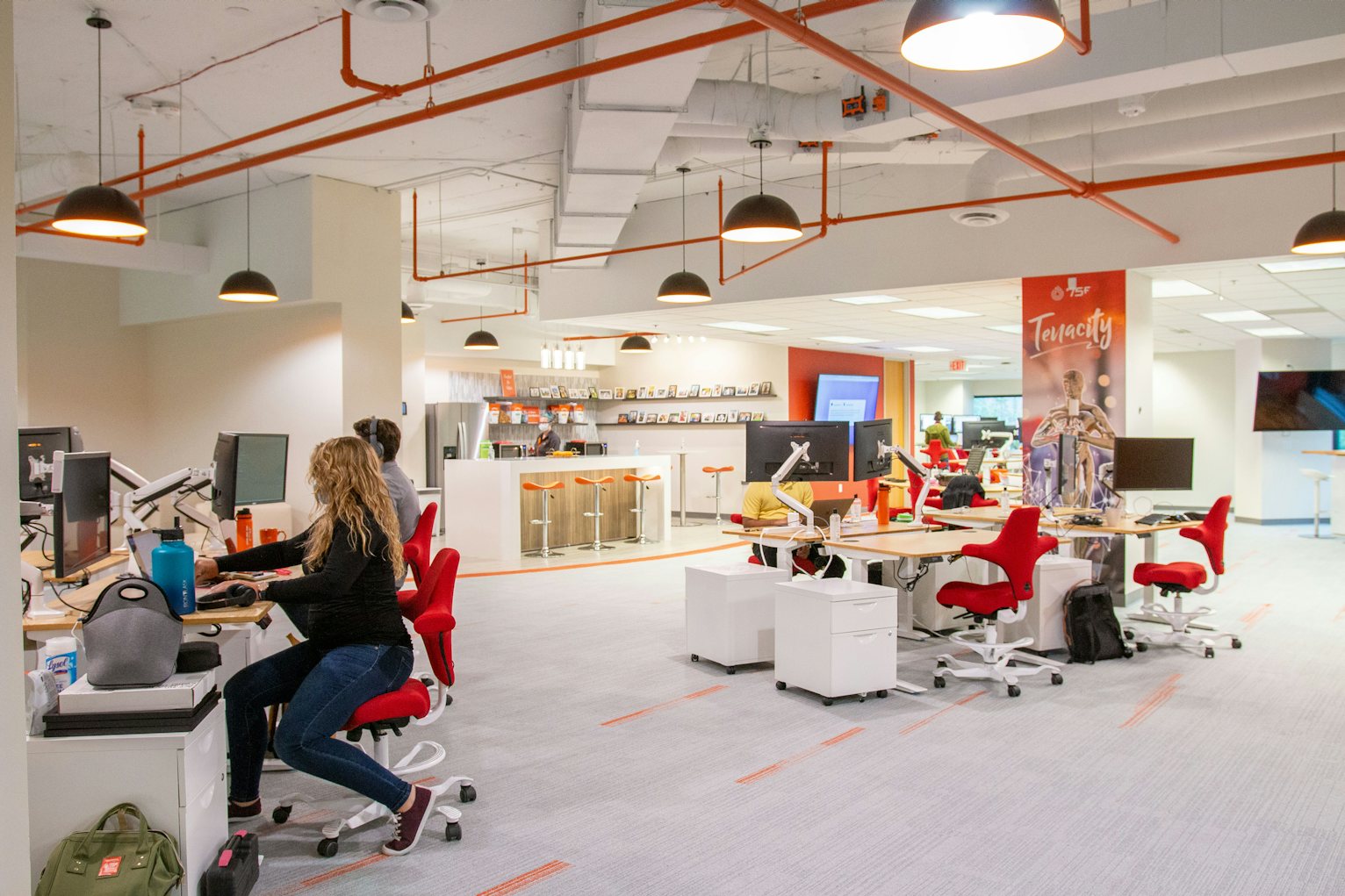 As 2021 comes to a close, we can't help but look back on a year we're proud to call uniquely ours. Despite ongoing industry disruptions due to COVID-19, the 75F team has worked tirelessly to develop industry partnerships, onboard new clients, earn awards and program placement, and deliver stellar system upgrades to our customer network. Here's to another year of forward momentum.
Collaboration With Daikin Applied Americas
75F's collaboration with Daikin Applied will make available a new generation of wireless controls and sensing technology, designed to work out of the box with preconfigured profiles and sequences specific to Daikin Applied Equipment. We spent this year fine-tuning the product and cannot wait to share the line with you early next year. 
This is our most significant collaboration to date. Daikin Industries Ltd., Daikin Applied's parent company, is the world's largest manufacturer of HVAC systems, with over 70,000 employees and 100 production sites, and more than $24 billion in sales across the 150 countries where it operates. 
Investment From Siemens AG
75F's Series A funding total reached $28 million this year after an investment led by Next47, the global venture capital firm backed by Siemens.  
"This investment signals a broader industry shift toward energy efficiency and the technologies that make those savings accessible to more customers," said Henning Sandfort, CEO of Building Products at Siemens Smart Infrastructure. "75F's wireless solution is easy to install and implement, offers fully-integrated AI and analytics, and can help get companies large or small on a path to meeting their energy or carbon reduction goals." 
Awards & Programs
75F is honored to have been selected for several prestigious industry awards this year, including a Top 100 list compiled by the International Research Centre on Artificial Intelligence (IRCAI), the AI arm of the United Nations Educational, Scientific, and Cultural Organization (UNESCO). 

Other awards we earned this year include the 2021 Global Cleantech 100; Bloomberg New Energy Finance Pioneers; Google's Climate Accelerator; and a Frost & Sullivan Best Practices award.
New Faces at 75F
2021 was a big year for new faces around the office. Since January, 75F hired 18 people in the U.S., and our hiring plans for next year are only growing — browse our openings! 
Ben Stelmach — Senior Software Engineer

Chris Kirk — BAS Support Agent Level II

Jason Rivera-Cardona — Application Engineer, Design

Karl Fraasch — Lead Firmware Engineer

Joe Pattenaude — Director of Support Operations

Stephen Glover — Inside Sales Representative

Gina Miraldi — Head of Creative

Emi Chen — Head of Front End Development

Jiale Chen — Intern

Mo Alhroub — Director of Engineering

Jon Stampley — Warehouse and Logistics Specialist

Jacob Klein — Application Engineer

Sydney DeSchepper — Talent Success Generalist

Nick Prill — Application Engineer

Michael Hawkey — VP / General Manager

Christian Montgomery — Growth Marketing Intern

Zach Meyers — Senior Software Engineer - Front End

Luke Bonsen — BAS Support Agent Level I
Our Newest Clients & Case Studies
Our customer list grew substantially this year, with new clients including the likes of Energy Efficiency Resources, Comfort Systems USA, My Salon Suites, and more. This year, 75F also joined Controls Group North America as a preferred vendor and the New York State Energy Research and Development Authority (NYSERDA) Real Time Energy Management Program (RTEM).
Check out some of our favorite success stories from the last year: