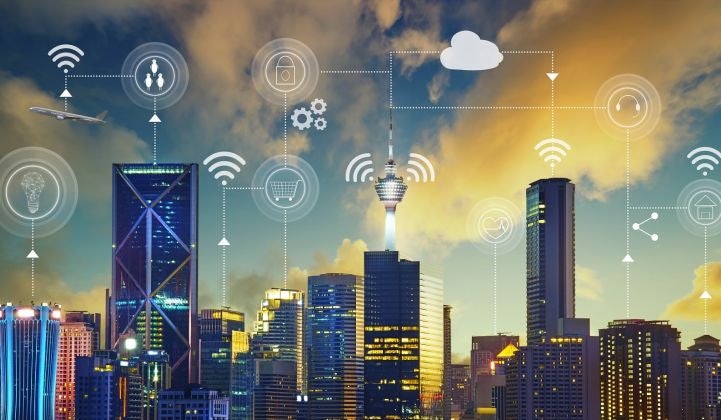 Why choose an IoT Powered Building Automation System over a Traditional BAS?
With every passing day, technology progresses by leaps and bounds. Everything from our cars to our mobile phones are becoming more advanced, offering features we never thought possible. So how can we overlook the buildings we live and work in? It only makes sense for our homes and offices to become as smart as the devices we use. The world we live in is dynamic and therefore, spaces we live and work in have to reflect this by being dynamic as well. 
IoT (Internet of Things) has revolutionized Building Automation Systems (BAS). With built-in intelligence, IoT powered BAS makes the building intuitive and proactive while empowering occupants and making control and management easier than ever before. IoT powered BAS transforms your buildings into energy-efficient, automated machines that work for you!
IoT Powered Building Automation vs Traditional BAS
Traditional building automation systems are now old school. A maze of disparate devices and systems that control different functions of a building such as HVAC, security, lighting, etc. are progressively becoming ineffectual in meeting the ever-increasing needs and demands of a building and its occupants. They also make achieving business goals such as cost reduction, energy efficiency, flexibility and future-proofing, very difficult.  IoT has changed all that. IoT creates a connected world and with connectivity comes simplicity, faster response times, lesser chances of human error, a higher degree of customization w.r.t the occupant needs, which ultimately leads to efficiency and comfort.
Apart from making manageability easier, IoT powered BAS can make your buildings energy efficient, leading to savings on your utility bills. And when we say savings, this can be to the tune of 30-50% or more! For example, Larsen and Toubro Infotech, one of the largest IT companies in India saved over 55% on energy using 75F's System!
You might ask, traditional BAS also saves energy and offers easy manageability, so why should I go for an IoT powered BAS? Apart from the cost and manageability, what other benefits does IoT powered Building Automation offer?
In this blog, we take a look at benefits beyond just energy efficiency offered by IoT powered BAS.
Advantages of IoT Powered BAS
Apart from the energy and manageability benefits mentioned above, IoT powered BAS offers many more benefits. Here are a few!
Occupant Comfort: Apart from making life easy for the facility management team, the BAS can also help improve occupant comfort. By proactively and intuitively maintaining thermal, air quality, and lighting levels in the building, the system ensures occupant comfort always. You do not have to worry about dreaded thermostat wars or complaints from occupants regarding the temperature. The 75F system for example understands that the thermal comfort range for different people can vary and therefore empowers occupants with individual control using the Occupant App. Now you can leave your winter jacket at home during the summers and use the app to set the temperature for your zone according to your comfort.

Occupant Health and Productivity: IoT powered BAS also helps improve Occupant Health and Productivity! By constantly monitoring different variables, IoT powered BAS ensures that temperature, air quality and lighting are constantly maintained at healthy levels. With better indoor air quality, human-centric lighting and thermal comfort, occupants are not only comfortable but also healthier and more productive. As a result, absenteeism drops and adds to your company's bottom line!

Visibility and Insights: With advanced energy analytics and reporting advanced automation systems can also give you a real-time visibility and insights into your building's operations. You can deep dive into energy consumption patterns, trends, thermal patterns, heat-loads by zone, occupancy metrics and more. And you needn't just monitor the building systems, you have the power to control the systems anytime, anywhere. 

Sustainability Score: An intelligent building automation system improves your building's sustainability. The millennial talent pool of today is well-informed and appreciates companies that are serious with their environmental policy. Since both the consumers and the workforce today is becoming increasingly environmentally conscious, this could prove to be profitable for you. With 75F, you get up to 38 LEED points! 75F is also the first building automation solution to integrate with the Arc SKoru platform and enable automatic score updates. The ARC platform allows companies to measure, monitor and score building performance across different categories.
There are many more benefits and advantages offered by IoT powered BAS that can transform your facility into a smart, completely automated and energy efficient building. So what are you waiting for? Transform your facility today!