Sustainability Increases Value in Commercial Real Estate
Although we hear the word sustainability a lot these days, for many business owners, sustainability is still just a buzzword. As a building owner or manager, maybe you'd like to make improvements toward sustainability, but green building features are still on the "nice to have" list, maybe shuffled behind mechanical and cosmetic upgrades.
But investors don't see it that way anymore – and the numbers show it. 
Sustainability Reports 
Sustainability reports – which are reports that companies and organizations publish about the environmental impact of their buildings and practices – were once uncommon, reserved for companies in sectors which dealt with chemicals and environmental mishaps. Then came the concept of the "triple bottom line" – people, planet, profit – as companies learned corporate performance depended on all three. Now, sustainability reporting has become the norm. In 2018, as published on Harvard Law, Si2 found that 78% of S&P 500 companies issued a sustainability report. For larger companies, the figure climbed as high as 93 percent. 
These sustainability reports aren't a "nice-to-have" – investors are demanding them. "Investors are realizing that sustainable investing can mitigate risks, reduce operating costs and create 'alpha' in their portfolios," writes Chris Wedding, founder and managing partner of Chapel Hill, a clean-energy investment-banking and advisory firm. Bank of America, Morgan Stanley and Goldman Sachs are among the investors finding that sustainable companies produce stronger fiscal results.  
Companies that are able to offer sustainability reports benefit not only from improved access to capital, but also benefits like a better reputation, higher employee satisfaction and energy savings from increased building efficiency.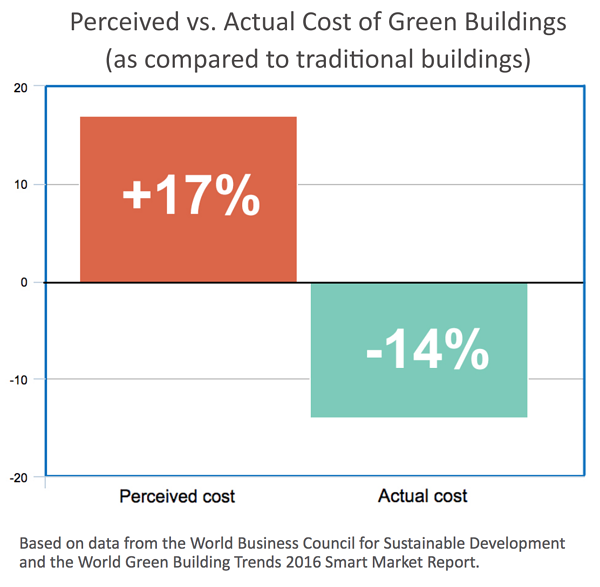 The Cost of Going Green
Misconceptions about cost prevent adoption of sustainable buildings are very common. A 2007 opinion survey by the World Business Council for Sustainable Development found that green buildings were thought to cost 17% more than traditional buildings.
But, according to the World Green Building Trends 2016 Smart Market Report, green buildings are 14% less costly to operate than traditional buildings – with newer buildings saving significantly more in terms of energy costs. Additionally, green buildings are worth 7% more than traditional buildings, on average – with market demand for green buildings doubling every three years.
A Shorter Payback
Green buildings often experience very short paybacks, which make smart HVAC and lighting systems appealing. In 2011, the UCLA Institute of Environment and Sustainability and CBRE produced a study on the trends and challenges of increasing building energy efficiency in retrofitting commercial real estate. Retrofit report analysis and surveys conducted by the researchers suggested decision makers expect a three- to five-year payback on any energy efficiency retrofit. Incentives and rebates can help shorten the payback period to less than three years and start net savings returns.
Where to Begin?
Making your building more sustainable doesn't have to be a total overhaul. There are easy retrofits you can put in place in a day– like smart lighting systems or smart sensors for building analytics. Check out our blog post, 4 Easy Smart Building Technologies You Can Install Today, for more ideas.