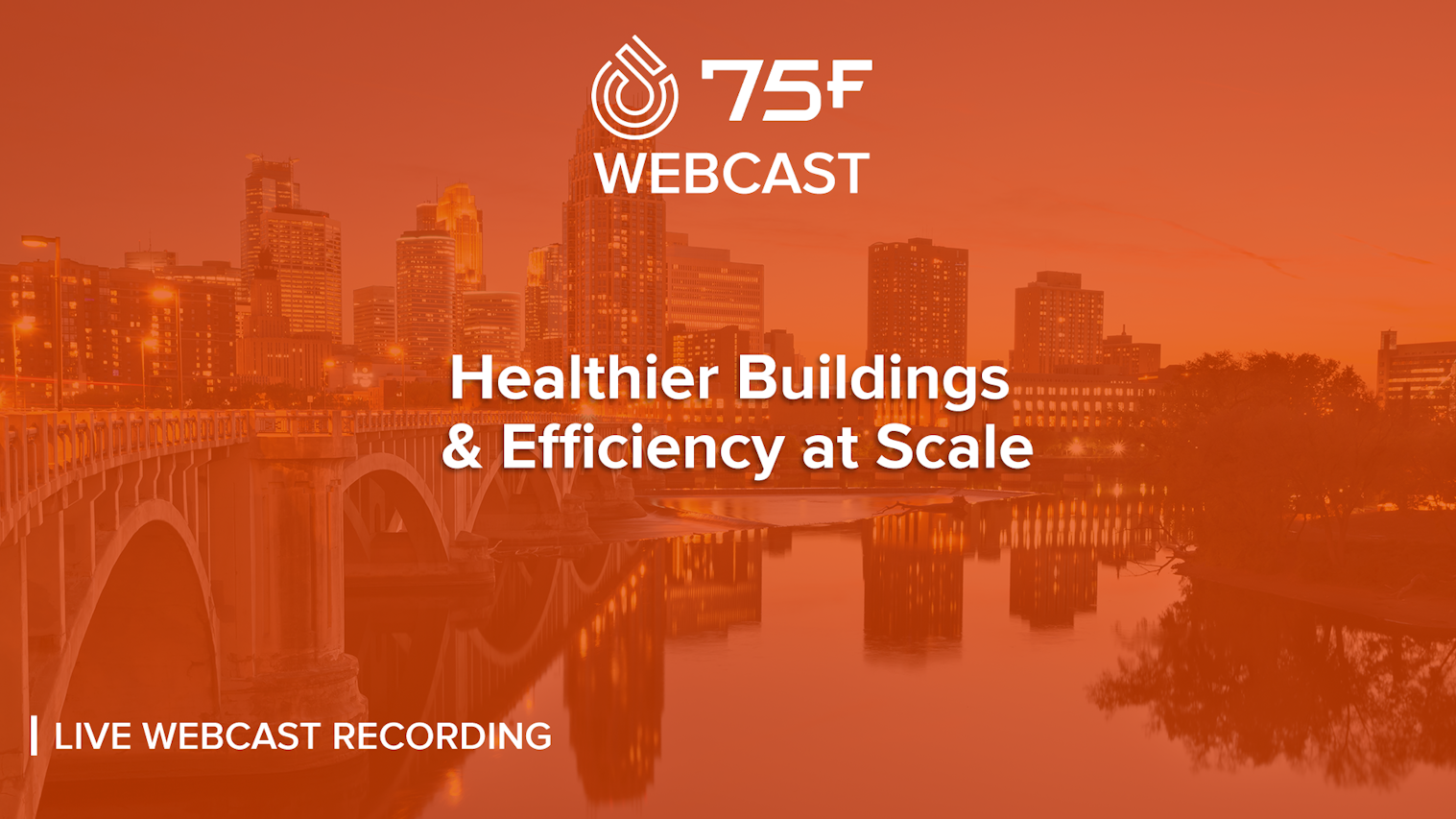 Healthier Buildings Series: Efficiency at Scale
Since launching our Healthier Buildings webcast series in early June, our hosts have covered a wide range of topics to help viewers better understand commercial building operations during COVID-19. In this session, webcast hosts look beyond single building operation and discuss how facility managers can effectively implement health and safety strategies at scale across their portfolio of buildings. 
Presenters included 75F Chief Evangelist, Bob French; and Dalkia Energy Solutions guests Erik Moser, VP of Hospitality and Healthcare; and Daniel Smith, Business Development Manager.
To watch a recording of this presentation, please view the video above. For a PDF of our slides, click here. Continue reading for an overview of webcast content.
Review: CDC and ASHRAE Guidelines on Ventilation
Current recommendations from the Centers for Disease Control and Prevention (CDC) and the American Society for Heating, Refrigerating and Air-conditioning Engineers (ASHRAE) suggest that building owners and facility managers reduce disease transmission from airborne particles by improving the engineering controls for ventilation systems.
Both organizations recommend increasing the percentage of outdoor air inside buildings, as well as increasing ventilation rates. Some strategies the CDC outline include keeping systems running longer hours, 24/7 if possible, and to disable demand-controlled ventilation (DCV). It also recommends opening OA dampers as high as 100 percent to reduce or eliminate recirculation.  
ASHRAE further recommends: 
Flushing the air in a building for two full hours prior to first expected occupancy. 

Flushing the air in a building again for two full hours post occupancy, or after closing. 
For detailed information on how to follow these guidelines in your building, please visit our webcast episode on the topic: "Healthier Buildings: Guidelines for Commercial Ventilation and Employee Health." 
Efficiency and IAQ at Scale in a Pandemic
By now, most facility managers are aware of the energy implications tied to CDC and ASHRAE recommendations for OA ventilation. Following guidelines without help from a building automation system could increase energy consumption by two or three times.
However, government data from the National Renewable Energy Laboratory (NREL) demonstrates that following guidelines doesn't have to be so costly with the right automation tactics. While investing in energy efficiency now may seem expensive, especially as the economy reacts to a global pandemic, Moser and Smith remind viewers that investing in efficiency sooner will reap greater monetary rewards.
"The sooner you can get to scale," Moser says in the presentation, "the more savings you're going to capture."
When planning to implement COVID-19 mitigation strategies at scale across your portfolio, Moser and Smith recommend taking these factors into account:
Sites, personal skill sets, and work loads vary widely. Consistency at scale is a challenge.

Service providers vary by location, and so do results.

Take a programmatic approach rather than a site-by-site approach.

Assemble a team and run in parallel rather than on an individual level.

Any impactful program across a company needs a high level of automation.
The 75F solution addresses those factors and makes applying strategies at scale more accessible, Moser and Smith point out in this webcast — installations are fast; ROI is disruptive; and remote, portfolio-wide visibility and control makes implementation accessible.
Since the start of COVID-19, Smith explains that Dalkia customers have been requesting control sequence changes that would make their spaces safer. He's been telling them yes, they can do that — however, implementing these changes across hundreds of sites without a control system that has remote capabilities is a challenge.
"When we move in a world from comfort and energy to compliance and safety, it's flick of a switch, and now the building is moved in line with safety and compliance," Smith says. "And not only safety and compliance, we can report and message on what' s happening in the building. That comes standard with the 75F offering."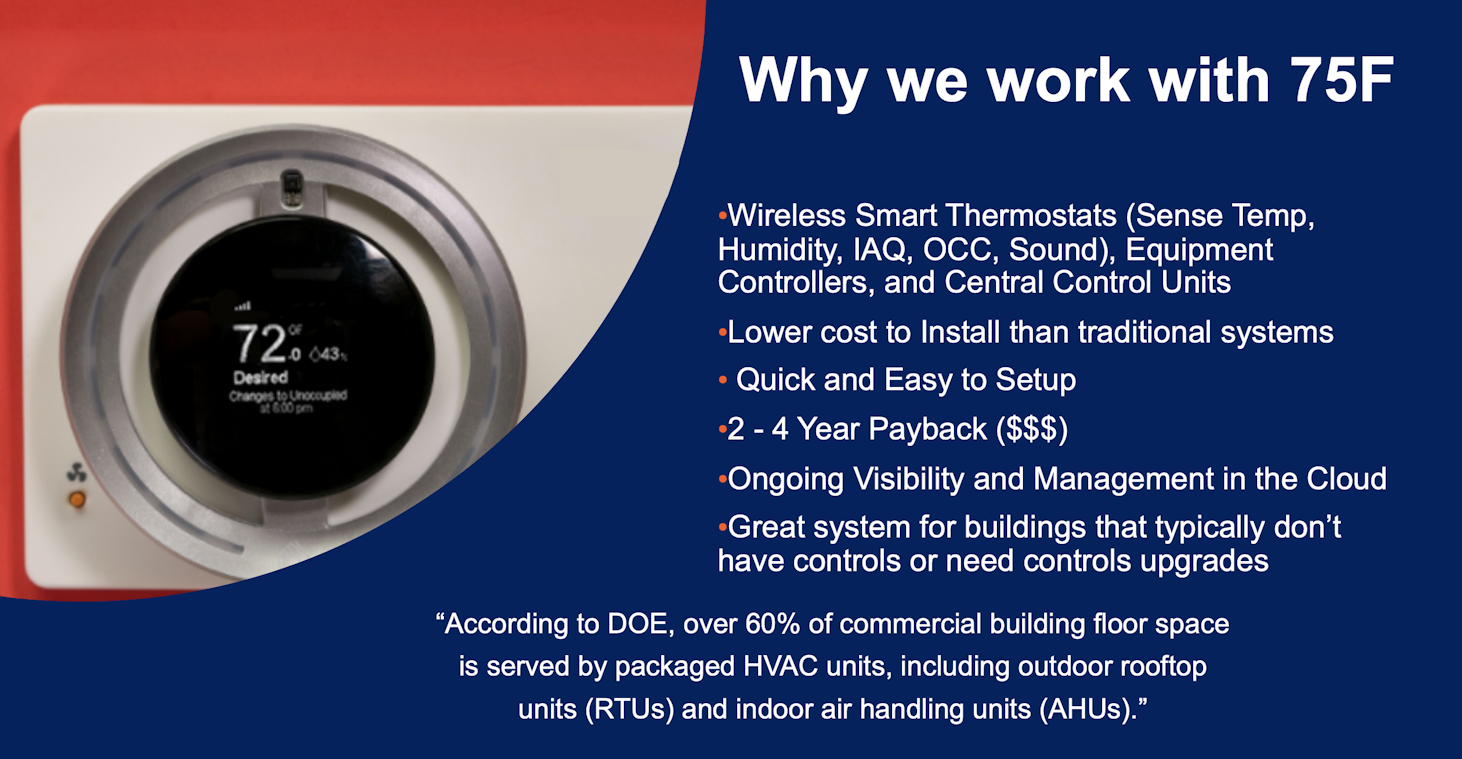 Q&A
"Has anyone done estimates for increased costs in HVAC operations due to increased ventilation? This will vary by region and season. Also, many of our buildings will not be able to keep up heating requirements with recommended ventilation rates." — Ian
Yes, there have been studies on the energy implications of increased OA ventilation. One government study from the National Renewable Energy Laboratory projects increased energy use of two to three times that of normal HVAC operation across all of the U.S. climatic zones.
There's good news, though — the same study modeled the energy use of 75F Epidemic Mode and found that in all climatic zones, the 75F system significantly lowered energy costs. See below for a snapshot of study results: