Study Supports Savings Potential of 75F's Dynamic Airflow Balancing
A recent Gas Technology Institute (GTI) study on 75F's Dynamic Airflow Balancing system in a California office space supports the potential for 45 percent gas and electricity savings over one year.
The independent, third-party study, facilitated for Sempra Energy utility San Diego Gas & Electric, focused on a typical commercial customer and an office space in Otay Mesa between November 2017 and November 2018. At the study's conclusion, GTI found the Dynamic Airflow Balancing system from 75F yields a significant increase in efficiency for constant air volume (CAV) rooftop units serving highly compartmented envelopes, or buildings with many zones.
This is the second study GTI has conducted on a 75F install. The first study for Nicor Gas supported between 25 and 27 percent savings on gas heating costs from 2015 to 2016 for a two-story office building in Skokie, IL. GTI's most recent data on 75F demonstrates an even greater savings in both heating and cooling — even in a mild southern California climate — supporting the value of Dynamic Airflow Balancing across a much wider range of buildings and use cases than previously documented.
Why This Study Matters
GTI's research concludes that 75F customers can achieve as high as 45 percent gas and electricity savings with proper application and circumstances.Researchers defined the ideal application as constant air volume rooftop units serving multiple individual offices.
"The results from this study show that there is a measured effect on energy consumption when using dynamic air balancing systems," the report says. "These findings support prior work. The study demonstrated how existing CAV RTUs may approximate a VAV system to increase efficiency and comfort for the building's occupants."
The same research found that constant air volume rooftop units serve 60 percent of commercial floorspace in the United States, accounting for 56 Billion square feet and almost $100 Billion dollars in annual heating and cooling costs at a nationwide average of $1.74 per square foot. 
Given this statistic, 75F has the data-supported potential to reduce energy consumption by $21 Billion dollars a year across the majority of the commercial building sector. 

Furthermore, GTI's latest study indicates 75F is a particularly innovative solution for constant volume multi-zone packaged rooftop units of less than 20 tons. This is because variable air volume systems are traditionally used in larger units, leaving a marketplace void that the report says has been ignored by original equipment manufacturers.
"The evaluated system is an aftermarket retrofit solution to bring VAV type capabilities to the CV RTUS," the report says. "Like a true VAV system, the (75F) technology provides fan energy savings and heating and cooling savings. By modulating the air between zones, the system delivers satisfying room temperatures faster and trims excessive equipment runtimes."
75F's Chief Evangelist, Bob French, points out that RTUs of that size are commonplace in the U.S.
"These studies independently prove substantial savings for business owners across the country in a variety of climates," he said. "We're glad the data provided corroborates the savings we're seeing with current customers."
Data in both GTI studies mirror published savings other current 75F customers have achieved, including HOM Furniture, which saw over 40 percent in HVAC energy savings in the first 13 months after installing the 75F system in a single Plymouth, MN location. In this instance the building savings was $50k, and the payback period was just one year.
Roadmap to Savings at the Study Site
The host site for GTI's recent report consisted of an approximately 11,500 square-foot food production facility's office space with a mixture of individual rooms and an open area. The site studied had nine RTUs, with four selected for Dynamic Airflow Balancing for the purpose of the study. Those four RTUs account for most of the air balancing for the second-floor offices.
Two of these RTUs were three tons and had no outdoor air dampers. The remaining two were 10 tons and had economizers. 
"The zones created by the system's Smart Dampers are visually represented on the facility web portal, called 'Facilisight,'" the report says. "Note that a facility manager can readily see the deviation from the setpoint of each zone based on the different zone colors."
worked out of the box. The study installation was completed in less than half a day without a master electrician or any programming required.
Airflow Balancing: Traditionally, systems are balanced with manual dampers for peak cooling and peak heating loads. This causes inefficiency and uncomfortable service for significant portions of the year. Instead of balancing systems twice a year, 75F automatically optimizes airflow to dynamically meet current building conditions.

Predictive Weather Analysis: 75F proactively pre-heats and pre-cools zones based on forecasted weather instead of reacting to changing loads in the building. This is achieved by incorporating predictive cloud-based algorithms. 
These two features were particularly significant in situations with more zones.
"Given that the main benefits of the system are obtained by routing conditioned air to where it is needed most (and away from where it is not needed)," the report says, "the system provides most benefits to zoned spaces rather than open spaces where natural air mixing would occur."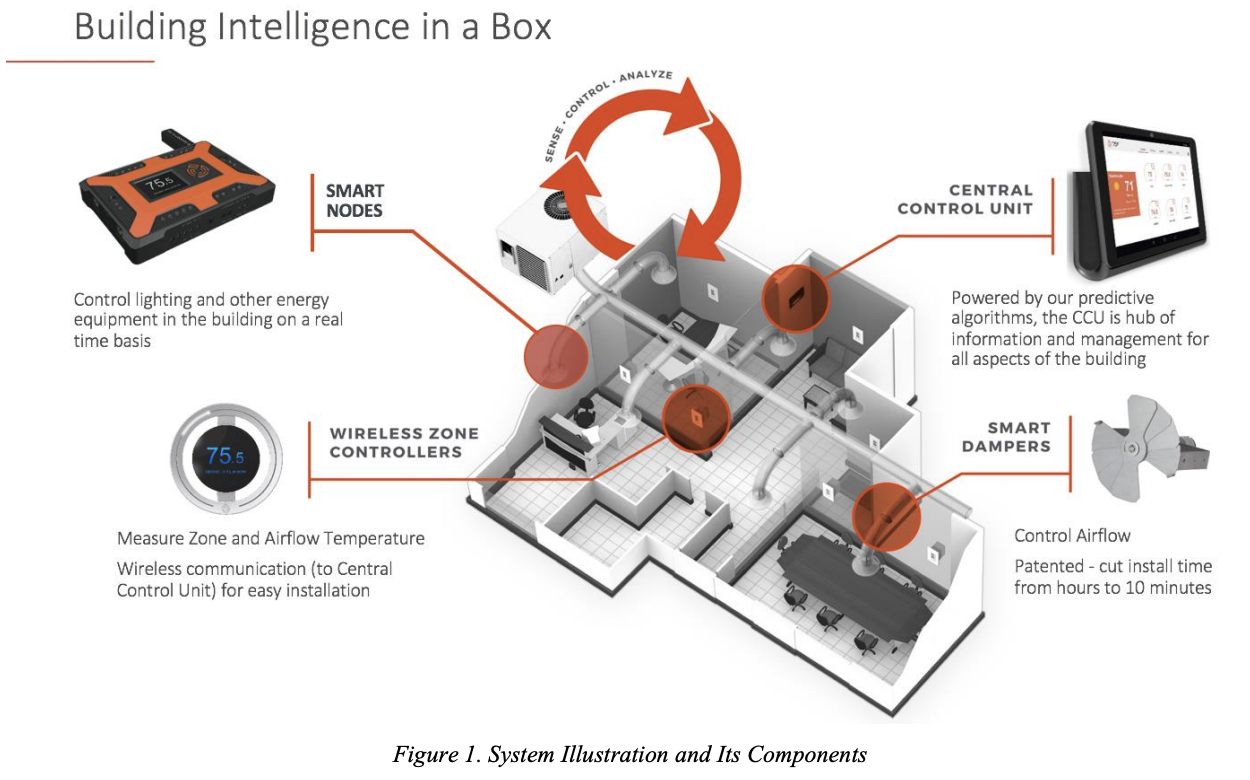 Further capabilities that were not selected to be used in the GTI report for San Diego Gas & Electric would have allowed for even greater energy efficiency and operational cost savings without significant expense, including:
Multistage Thermostat Support: Rather than integrating a single-stage thermostat and using the control logic of the RTU to stage heating and cooling, this feature allows the system to optimize staging of RTU heating and cooling to prevent setpoint hunting.

Occupancy Detection: Sensors can detect building occupancy and establish zone schedules to allow for greater deviations from set points.

Demand-Controlled Ventilation: Controllers may modulate outdoor air dampers to reduce ventilation – within allowable limits – based on occupancy data. CO2 sensors modulate the damper rather than using only building occupancy as a guide.

Enthalpy Economizer Performance: Enthalpy economizers allow for use of outdoor air as free cooling prior to starting mechanical cooling.