Building Automation Controls for Multi-Tenant Buildings
75F's building automation solution is a green, easily-installed, low cost system that provides an exceptional occupant experience and makes it easy to balance temperatures across hundreds of zones. By studying and analyzing usage patterns and heat loads in your building, the 75F system can proactively manage the building's temperature, lighting, and indoor air quality to keep the indoor environment comfortable and consistent.
Learn how we make your building work for you and your tenants!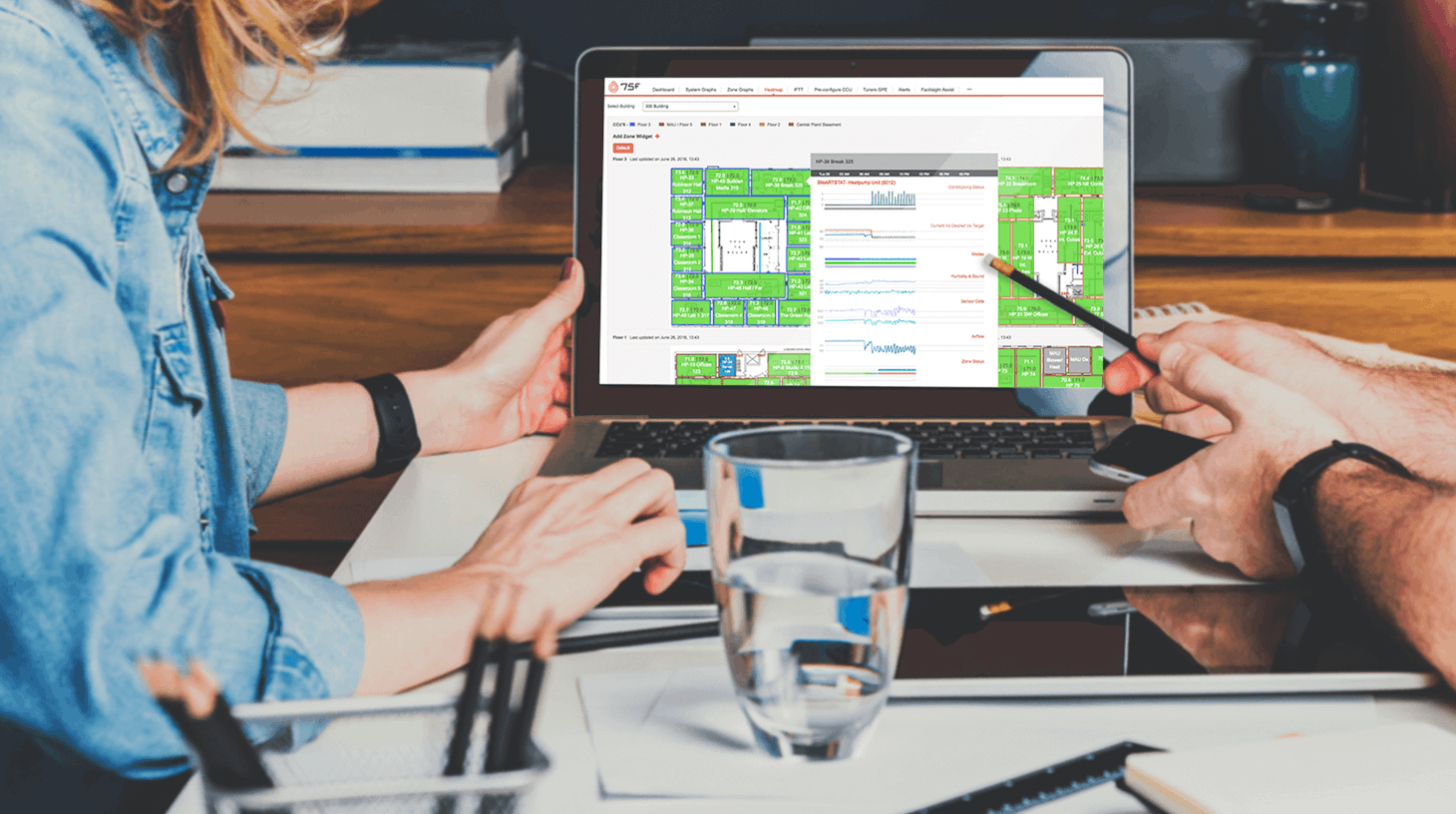 Monitor from anywhere
Facilisight, 75F's energy management portal, provides real-time energy metrics – empowering you to monitor and manage energy usage and equipment health across all rooms and buildings from your phone, tablet, or computer. View a portfolio-wide, color-coded dashboard across all your buildings – along with the ability to zoom into individual floors, zones and equipment levels in just a few clicks. You can monitor real-time data, check equipment health and status, and more. With over 650 data points synced to the cloud each minute, we make it easier to stay on top of your buildings than ever before.
Plus, with the 75F® Portfolio Energy Manager™ makes it easy to keep tabs on lighting and HVAC energy consumption. Benchmark energy consumption and compare across sites, identify peak energy usage, and get insights on energy sub-metering to reduce your utility bills. 75F predictively and proactively reduces HVAC and lighting energy by up to 30-50%, while delivering optimal indoor environment comfort and indoor air quality – leaving traditional Energy Management Systems (EMS) in the dust.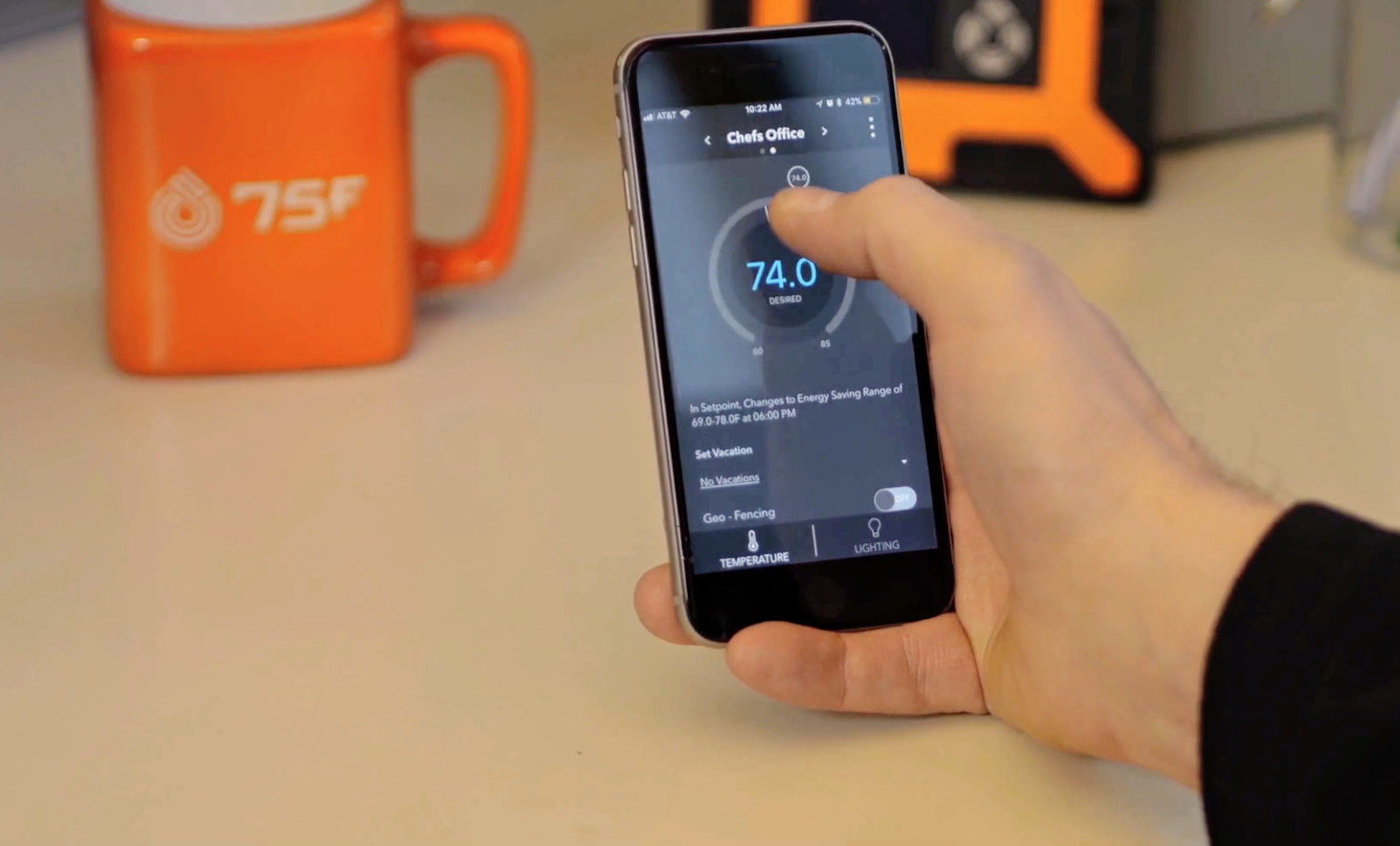 App-based occupant control
Treat your occupants to the indoor experience they desire with the 75F® Occupant App™. With a controlled range of temperatures established, your tenants have the power to control temperatures inside of their assigned zones and schedule vacations for their zone to allow the HVAC system to drift to building ranges and avoid turning on lights, saving energy for unoccupied office zones. With geofencing capabilities enabled, the 75F system can even sense occupants approaching a defined area, anticipate their arrival, and pre-condition their space to meet individual preferences.
Users are able to rate and provide text message feedback about comfort levels in their environment, complete with photo uploads, allowing quick and easy remote insights for building owners and facility managers to be responsive in the event of equipment issues or other indoor environment issues.

Sustainability in Action
Our story starts with energy efficient buildings. In 2008, the United Nations launched a campaign to raise thermostats in their secretariat building from 70 to 75°F as one of many strategies to reduce their carbon emissions. From our partnership with the UNEP Sustainable Buildings and Climate Initiative, to our tireless drive to create smarter, more comfortable, and more energy efficient buildings, we take inspiration from the United Nations and embody it in our name and company culture. 
75F has also partnered with the U.S. Green Building Council (USGBC), Green Business Certification Inc. (GBCI), and the International WELL Building Institute. We're proud to have our solution contribute to up to 38 different LEED v4.0 points, providing even further capability for you to showcase your good work to the general public. The 75F system also meets all WELL Building 2.0 Standards right out-of-the-box and features an Arc Platform Integration for building performance scoring & indexing.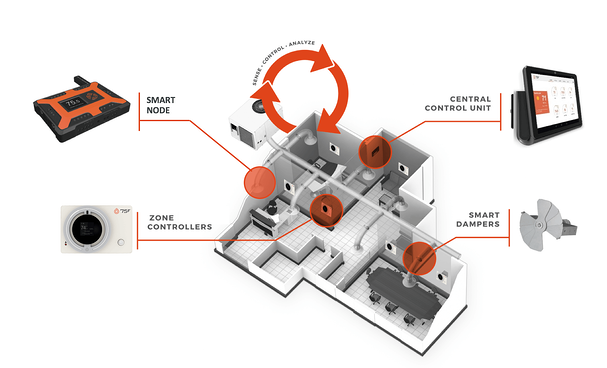 How we make it possible
Unlike traditional Energy Management Systems (EMS), 75F building intelligence solutions predictively manage most HVAC and lighting systems. Our smart thermostats sense temperature, humidity, light levels, occupancy, CO2, VOCs, and sound (decibel levels) to deliver the optimal indoor environment. Smart dampers also work together to create precisely controlled zones – which makes the 75F system perfect for multi-family/tenant facilities.