Q&A: CEO Deepinder Singh discusses business during COVID-19 pandemic
Large and small business across the world have been impacted by the coronavirus pandemic. CEO Deepinder Singh sat down to discuss how the company is coping during this unprecedented time...
Q: How has COVID-19 affected the 75F business?  
Singh: The changes we are seeing around the world are very deep and have affected everyone, including 75F. We have all been working from home for the past four weeks now. In some regards, we were well prepared to work remotely because at the 75F office, it's only mandatory to come into the office three times a week. Many of our teams were already working partially from their homes.  
It has been harder than expected for us in terms of having zero face-to-face time for most folks. This is especially true for our team in India, where restrictions are harsher and the amount of space that people have in homes is less than here. They have very little freedom of movement, so that part of our team is hit harder than everyone else. We're taking this time to focus inward from a business perspective. We have seen a decline in physical installs because people are not going on job sites like they used to before the COVID-19 outbreak.  
However, on the plus side, some of our target customers are more accessible for conversations and demos because they're working at home and have time. They aren't fighting fires at an operational level on a day-to-day basis.   
Q: Explain how you have assessed the situation and reconfigured your business plan… 
Singh: We've been more prudent in our discretionary spend — we aren't spending as much, and we have cut down on our burn rate significantly. As a company, we are going to stick together and wholeheartedly believe that it's important the entire team stays together now rather than engaging in furloughs or layoffs. We are well positioned for that. We have enough reserves and hope to come out strong on the other side.  
Q: How are you reassuring customers that business will continue as usual? 
Singh: That's a great question. Some customers have been worried, and we've been reassuring them. I think one of the the values that 75F has been able to provide is that we can continue to remotely monitor and tweak building operations for all customers, even when personnel aren't available for their onsite day-to-day work. Some of our customers have been able to leverage that, making sure that energy costs are dramatically reduced because building occupancy is way down. 
There are some pretty dramatic stats to that effect. For instance, if a building manager switches to vacation mode and puts the setbacks deeper, it allows them to save substantial energy costs. We have data that shows a building's usage the first two weeks of March, which had a high energy usage. But once the Stay at Home order in Minnesota took place, the building's HVAC energy usage has dropped dramatically by 80%.  
We believe systems like ours allow buildings to be more flexible to uncertain conditions like the one we are in at the moment. When we come out of this, we hope more people will see our value and how well prepared they could be for various uncertainties.  
Q: The pandemic situation is still evolving day by day around the world, and the end is unknown. Have you had to make cuts either to personnel or parts of the business? 
Singh: At 75F we made a commitment to not cut any personnel or cut hours through furloughs. It appears that the overall health situation is slowly improving around the country, and as I mentioned earlier, we believe that the team should stick together and come out extremely well prepared on the other side.  
We're calling this current quarter the Quarter of Leveling Up. We are auditing all our processes and doing spring cleaning on some of our systems that have been left unattended through our flurry of growth spurts.  
When the phoenix arises from the ashes, we are going to be much leaner and well-positioned for what we feel will be a perpetually changed business environment.
Q: What are you hearing from investors? 
Singh: We have been talking to key board members and investors regularly to keep them appraised of all aspects of the business. They have all been great at helping us take advantage of the provisions in the bills that Congress passed due to COVID-19. 
We were able to apply for an SBA loan through the PPP (Paycheck Protection Program), in no small part because of our investors with a special shout out to Matt Eggers and Christina Karapataki at Breakthrough Energy Ventures It should be noted, however, that while we were approved for a PPP loan, our executive leadership team and investors agreed to return the funds in full back to the government as we feel our customers are the types of companies that might need the money more than we do. We are very pleasantly surprised how responsive and helpful all of our investors have been during this time.  
Q: What parts of your business are staying busy – or even busier – due to the virus? 
Singh: It's an interesting dichotomy that some parts of the business are, in fact, quite a bit busier. On the development side, people have been churning out projects very quickly because there are fewer distractions around them. The operations and talent development teams have also been working overtime.  
We have also created an internal "gig board" where people who have some free time on their hands can volunteer to help others within the company on their projects. Overall, we are providing ample opportunity for people to step in and assist others.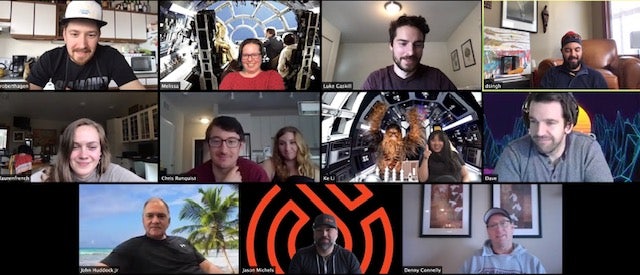 Q: How are your employees handling this situation? Do you see any differences with U.S.-based staff vs overseas? 
Singh: The primary difference, as I stated earlier, is that India is in tighter quarters. They have harsher restrictions as a country - they even have a curfew, so they can't get out and about from their homes like we can here in the U.S. For employees who have kids, it's much more challenging because they must take care of them as well as work. We have accommodated those employees with children by being more flexible in hours, so they aren't working 8 to 5. Some choose to catch up on work after their kids are asleep. 
We are also using video much more so we can see each other on all of our calls. A third implementation we've started is having daily stand ups amongst all of the departments, plus weekly retrospective meetings to wind down the week. That leaves more time for teams to bond with each other, even if it's virtually.
Finally, we are embracing Zoomtails, which is cocktails over Zoom. Every Friday, the company joins a virtual video chat with spouses, SigOths, and kids. In some ways, this has caused the human connection to be stronger than ever: We get to see families more than we would in an office scenario. It's also safer than regular happy hours because there is no driving involved, and the libations can flow freely. 
Q: How do you see the future of 75F post-COVID-19? 
Singh: I believe that we are well-positioned to take part in the recovery. The new world when this pandemic is over is going to look for solutions that are more adaptable and versatile, and 75F fits that bill. I also believe there is going to be a bounce back in terms of infrastructure spending from the government, and maybe a recovery bill that would help to capture market share. This is also, from our perspective, a great time to strengthen our processes. There will be an overall cut in the amount of travel that is required for businesses, and we believe the world is going to be more accepting of remote communication solutions, and companies like 75F who are better poised to embrace tech shifts. 
From a brand perspective, we will be able to share some victories in terms of how our customers were able to leverage our solution. During these trying times, we believe this will demonstrate the value of the 75F system and further solidify our brand. Customers have been able to remotely shut down buildings to save energy, and others have increased indoor air quality by forcing in fresh air without having to send technicians to the site. 75F truly demonstrates the immense advantages of remote management.