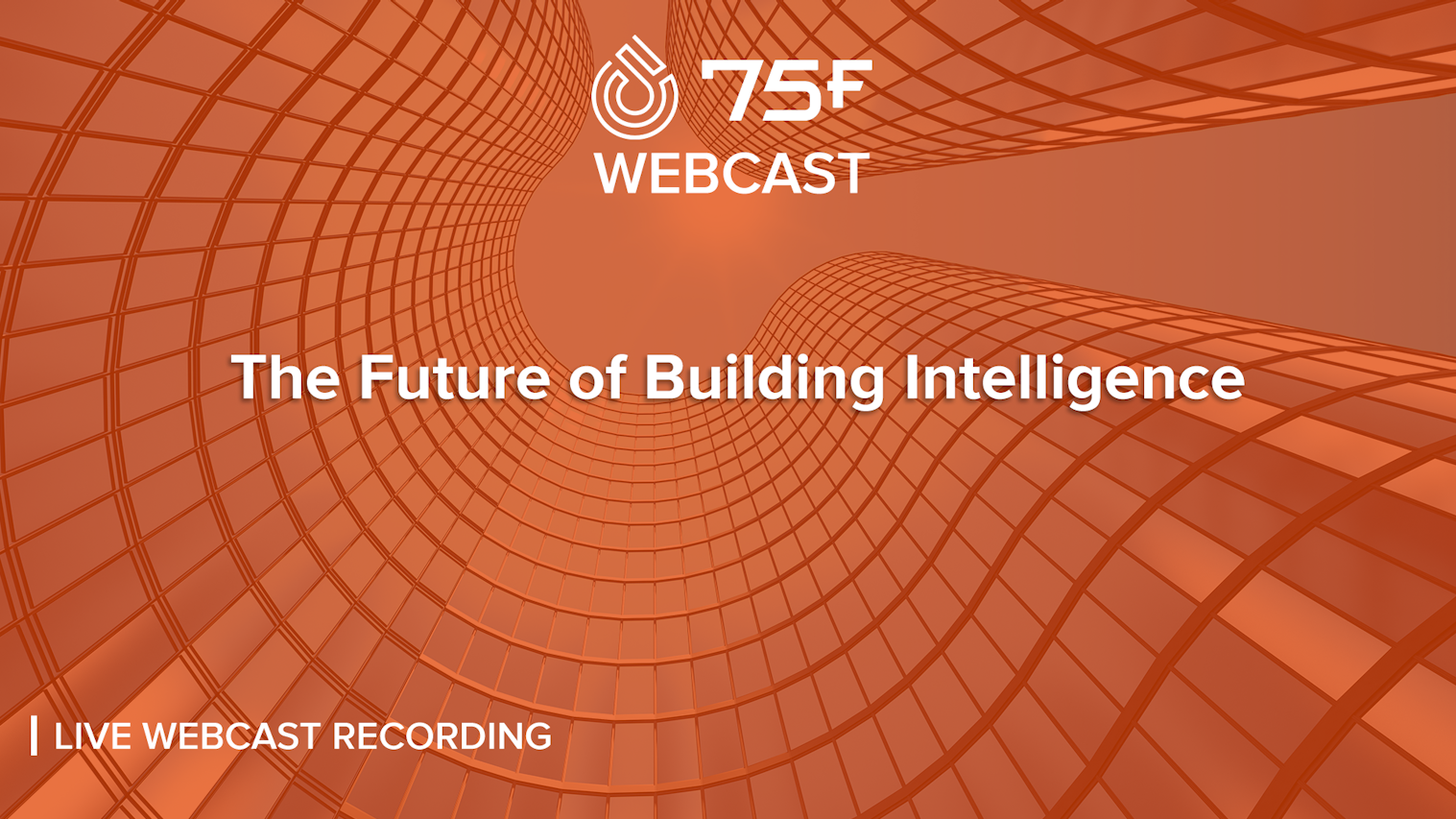 Healthier Buildings Series: The Future of Building Intelligence
When 75F founder and CEO, Deepinder Singh, talks about most current-day building controls, he likens them to Lego blocks. Opportunities abound for energy efficiency, indoor air quality, comfort, and innovation in the built environment, but it takes a Lego master to put the building automation pieces together and turn them into a bespoke solution.
With technology as advanced as it is today, the controls industry does not need to operate this way anymore, Singh says. In this webcast, Singh invites data analytics expert and founder of Nexus Labs, James Dice, to explore the ways in which the current building controls paradigm is broken, and how key pieces can change the industry for the better.
Dice got his start in this industry as a mechanical contractor 10 years ago. His experience until now ranges from the "nitty gritty" details of installing mechanical systems to energy management consulting and building analytics. Singh, on the other hand, co-founded 75F after having designed some of the world's fastest core networks for Tier 1 service providers such as AT&T, NTT and Verizon. His key goal is to simplify operational complexity and make products intuitive.
Why is the building automation industry so far behind?
While building automation sounds like a futuristic industry to third-party observers, both Singh and Dice agree that building automation as an industry is far behind the capabilities of modern technology.
Over the last 30 years, Dice points out, the most significant progress in the BAS industry has been some trim and respond reset sequences — not a very large step forward considering the sophistication of modern-day technology and the Internet of Things. 
Building owners who want to buy, operate, and maintain building controls have a lot to wade through in order to be successful, Dice says, including difficulties in making simple control changes.
Singh contemplates that the accepted mindset of those working in building automation has something to do with the lack of overarching progress. In the industry, he says, it's simply accepted that system integration is required for success.  Alternatively, system integrators should be pushed to contribute not by writing control sequences — a task that should fall under the purview of software — but by consulting with businesses about where true value should be added.
What is building intelligence?
Building intelligence goes beyond sensors and connected things. The root of intelligence begins with the humans who occupy a space. 
"What job does the stakeholder need the technology to do, and how well does the technology do that?" Dice says in this session. "A building that is intelligent is probably doing those jobs pretty well."
Dice offers three primary functions an intelligent building should be serving for people: the occupant experience, financial results, and participation in the city. By participation in the city, Dice offers the electric grid as an example. Local grids in certain areas are being taxed – at some point, buildings will need to have a more transactive relationship with other buildings around them, he says.
Singh agrees on this shift to renewables, and adds that the relationship between the grid and buildings will need to evolve to be bi-directional adaptive response systems.
"I think it's exceptionally important that not only do we define these intelligence pieces, that we are also able to replicate them again and again," Singh says. "If it's so hard to reprogram the building controls solution to do simple tasks, how are we going to adapt to this future where we are going to need a huge amount of adaptability in terms of bidirectional communication and response?"
Q&A
At the end of each 75F webcast session, hosts answer audience questions in a panel style. Read through a couple of our guests' questions and our hosts' answers here.
"Why do we find ourselves settling for a BAS product landscape where the most simple of sequences are not created in a standard programming language so they can be shared?"
"I'm not entirely sure if the programming language itself needs to be common. From where I stand, it's the API that needs to be consistent. Your interface needs to be consistent, and as long as you can agree on that, how it's implemented, it should really be a black box," Singh says. "As long as the sequences comply with what is expected, to me it seems the fair way of looking at this."
"Thank you Deep and James, as another former NREL employee and career consultant — I am now in a position leading a team in emerging DSM and DR tech. I love 75F capability for behind the meter and I am curious how you plan to integrate from a grid level. Will 75F be a player in grid interactive building design from the grid level?"
"We are laying the infrastructure for what we call grid-interactive systems." Singh says. "What we are trying to do is Haystack for example, at cloud scale so that smart cities, utilities, can actually have data in terms of the entire building and their load so they can model this and figure out, before they talk about deferring load, what the impact is going to be. The short answer is yes, we want to make sure we have the toolset for grid interaction."