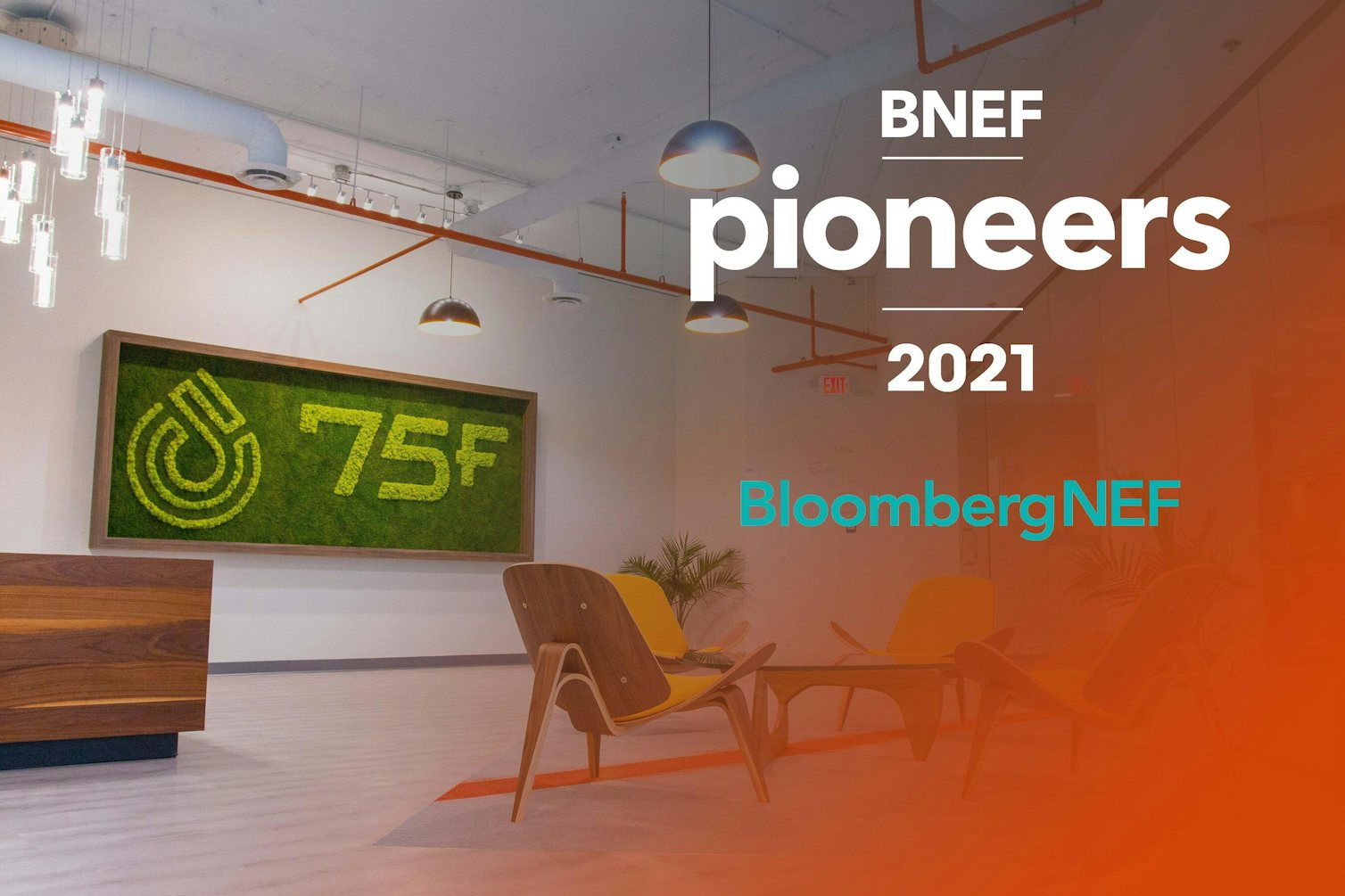 75F Selected as 2021 BNEF Pioneer
75F is proud to announce our selection to the prestigious 2021 BNEF Pioneers, a BloombergNEF award that recognizes innovations around the world with tangible potential to accelerate decarbonization and support the energy transition.
BloombergNEF is a strategic research provider covering commodity markets and disruptive technologies driving the transition to a low-carbon economy. Its Pioneers program has identified more than 100 game-changing technologies over the last decade that have real potential to influence change. Previous BNEF Pioneers include Boston Metal, Carbon Cure, and StoreDot.
"For the last decade, the BNEF Pioneers award has been essential in highlighting exciting innovations in solar, wind, storage, smart grid and electric vehicles, to name a few," Claire Curry, selection committee co-chair and head of digital industry research at BloombergNEF, said in a press release. "By focusing on specific themes each year where technology innovation is sorely needed, we hope that the competition will continue to shine a light on important, pioneering innovations."
This year, the BloombergNEF team received more than 250 applicants from 36 countries and selected 12 companies across three categories. Innovators in this year's cohort have technology that make a difference in managing and optimizing long-haul freight, advancing materials and techniques for sustainable products, and monitoring and understanding our changing planet. The selection committee also chose three wildcard technologies.
Winners are selected based on the level of innovation and novelty, the potential to reduce greenhouse gas emissions, and the likelihood of adoption.
About 75F
75F is a vertically-integrated, IoT-based Building Management System (BMS) using smart sensors and controls to make commercial buildings more efficient, comfortable, and healthy. The system is the only IoT-native or continuously commissioning BMS on the market today.
The 75F solution includes wireless sensors, equipment controllers, and cloud-based software that delivers predictive, proactive HVAC and lighting automation right out of the box. 75F's wireless sensors, placed in each zone, capture millions of data points daily. These data points are uploaded to the cloud via a 900 MHz wireless mesh network and combine with a live weather stream and forecast data so 75F's AI can predict optimal control strategies. Because 75F can account for hot and cold spots before they occur, buildings are not over-serving zones in commercial spaces, thus reducing CO₂ emissions and operational costs.
Where traditional building automation systems are complex, expensive, and require a lot of manual intervention, the IoT-based BMS can provide deeper energy savings and intuitive operation that matches the technological standards of today. 
"75F is disrupting the building controls industry by leveraging the Internet of Things in a complex and dated space. By doing this, we can make automation affordable and accessible to the majority of commercial buildings that can't otherwise justify a controls system today. We believe this is key to long-term sustainability, and we are honored to be counted among the BNEF Pioneers striving to build a better world."