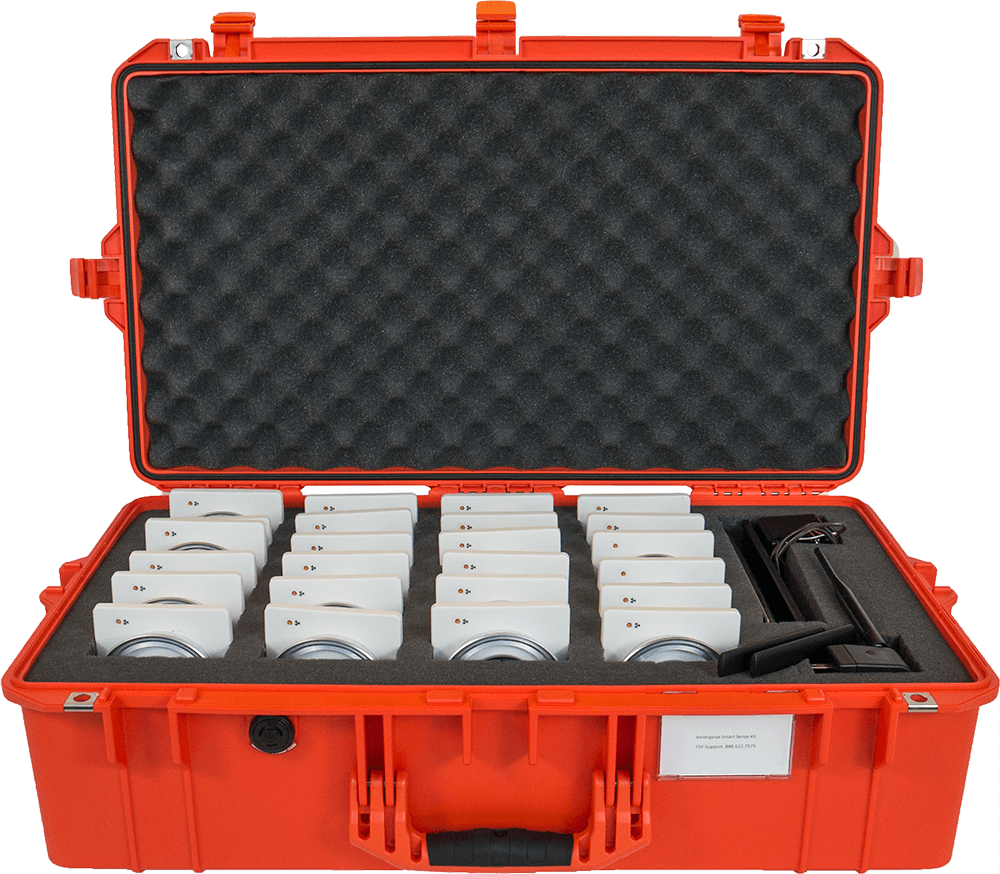 Troubleshoot Your Space with Commercial Indoor Air Quality Monitoring
Do people in your building complain about temperatures at their desk? Are you constantly trying to figure out where, why and how your HVAC system is making them uncomfortable? We have designed the 75F® IAQ Sense Kit™ to put those questions to rest – permanently. Don't be fooled by the name: the IAQ Sense Kit is at the top of its class.
The system is simple to install and data starts streaming in immediately. Just plug it in and walk away.
Plug-and-play workplace sensing
With the 75F® IAQ Sense Kit™ you'll be able to sense, monitor and trend data points. We'll send you text or email notifications where and when you choose. You'll be able to gain immediate insight on the quality of your workspace environment with affordable, plug-and-play sensing of temperature, humidity, CO2, VOCs, light, sound and occupancy. Furthermore, you can monitor and harvest trending data to discover trouble zones in your building, keep an eye on equipment health, and spot problems before they even occur.
The IAQ Sense Kit™ kit provides the full 75F® Facilisight™ dashboard with real-time and trending data to discover opportunities to improve your indoor environment. This service includes insights from a 75F Building Intelligence Analyst who will assist you with interpreting the data and make recommendations for improving energy efficiency, comfort, and Indoor Air Quality (IAQ).
The IAQ Sense Kit™ it is literally plug and play. Just unpack the kit, take each sensor to their designated zones, and plug them in. Log into Facilisight and watch your data stream in.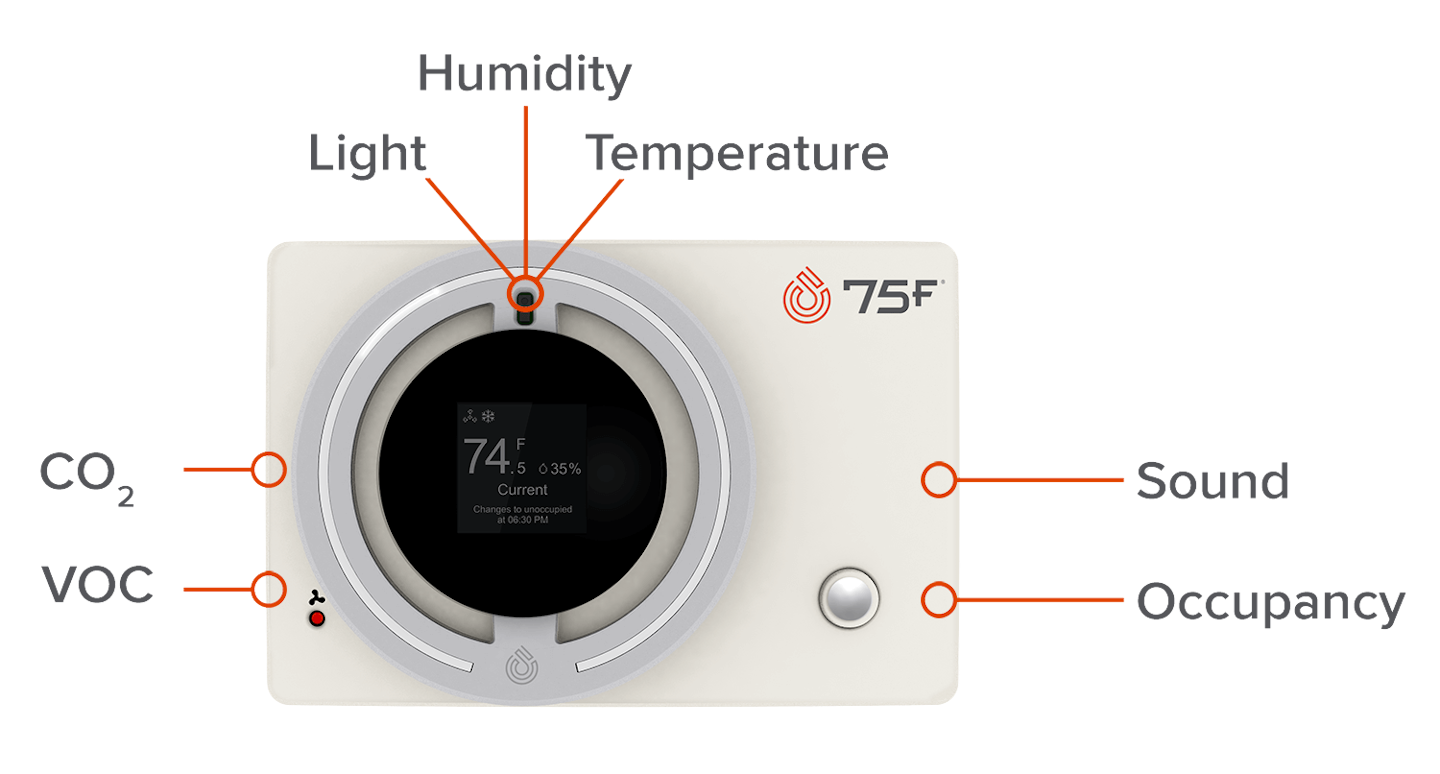 Introducing the star of the show
The 75F® IAQ Sense Kit™ is a multi-faceted zone sensor that comes complete with a cloud-based, predictive building intelligence suite. Automate and manage indoor air quality, lighting, and energy to assure comfortable, WELL Building environments for occupants and efficient facility operations. The IAQ Sense Kit™ provides a wall-mounted user interface with 7 onboard sensors for sensing light, temperature, humidity, CO2, VOC, sound, and occupancy status.
The IAQ Sense Kit™ is the sensing-only version of the 75F® Smart Stat™. The IAQ Sense Kit™ provides a low-cost option for gaining zone-by-zone data and insights on the workplace environment and indoor air quality.
The IAQ Sense Kit includes:
(1) Durable Pelican case with foam pockets protecting each component for mobility and 100% safe shipping.

(12 – 24) 75F® IAQ Sense Kit™ devices with 24v AC adapters wired and ready to plug in. Includes protective dual adhesive pads on the back for easy and safe placement on the wall.

(1) 75F® Central Control Unit™ (CCU) with 24v AC adapter wired and ready to go. The CCU is pre-registered to the Facility Manager assigned to the project.

Verizon Jet Pack is optional at additional cost. If you have Wi-Fi available in your building, the Verizon Jet Pack is not required.

All IAQ Sense Kit™ units are pre-paired and configured for 12 or 24 zones, with corresponding zone names (e.g. "Zone 1") preset in the CCU and in the 75F® Facilisight® web and mobile software suite.

Facilisight has the floorplan of the target building loaded with zones placed in the pre-arranged locations. Log into Facilisight and see your data just minutes from delivery!

Notifications are sent by email or text message in the case of equipment malfunctions.