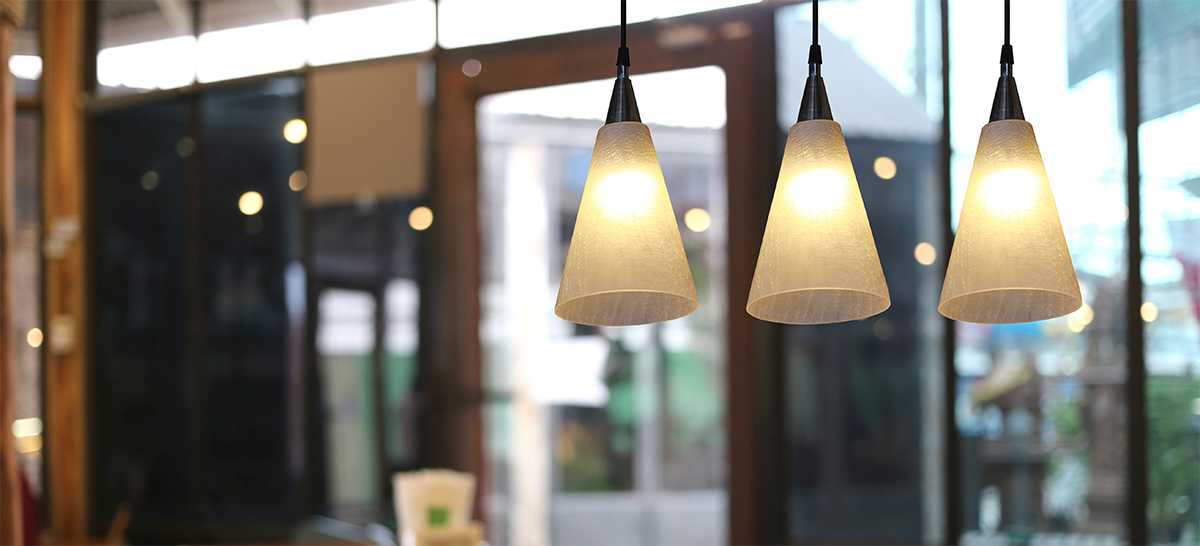 A Commercial Lighting Control System Built for the WELL Building Standard
Re-lamping and LED retrofit projects are popular methods for reducing energy costs. Re-lamping can be an effective source of energy savings – but there are even larger opportunities you may not have considered. Recent advances in cloud computing technology means that an automated lighting system offers larger savings opportunities and an even shorter ROI than re-lamping or LED retrofits. Plus, smart lighting systems offer benefits like meeting WELL building standards for a greener, healthier building.
Our Advanced Lighting system considers local weather, building orientation and geography, and occupancy status to adjust the lights, ensuring that no energy is wasted. Our interconnected system also ensures you're never left in the dark – and we offer remote scheduling and control, too. 
An easy add-on
Once 75F has improved your life with HVAC controls, you can get remote control and start scheduling your lighting, too. The incremental cost of adding lighting controls to the 75F platform is so small, it can be an easy decision. If you still have large circuits of T8 or HID fixtures, you can schedule these loads and get instant payback, much faster than LED retrofits. If you're looking for a holistic environmental control where an building occupant can control their own temperature and light levels with a mobile app, look no further. And if you wish that control also had daylighting capabilities to reach specified lux with natural light and LED combined, consider it your lucky day. You can achieve all this and the entire WELL building standard with one device, one solution, the world's first.
Just as with LED lighting, our energy efficiency measures are often eligible for utility rebates to help defray the upfront cost and improve the payback period. In fact, some of these measures rival the performance of LED lighting retrofits and re-lamping. Payback for our smart lighting system is often in less than one year.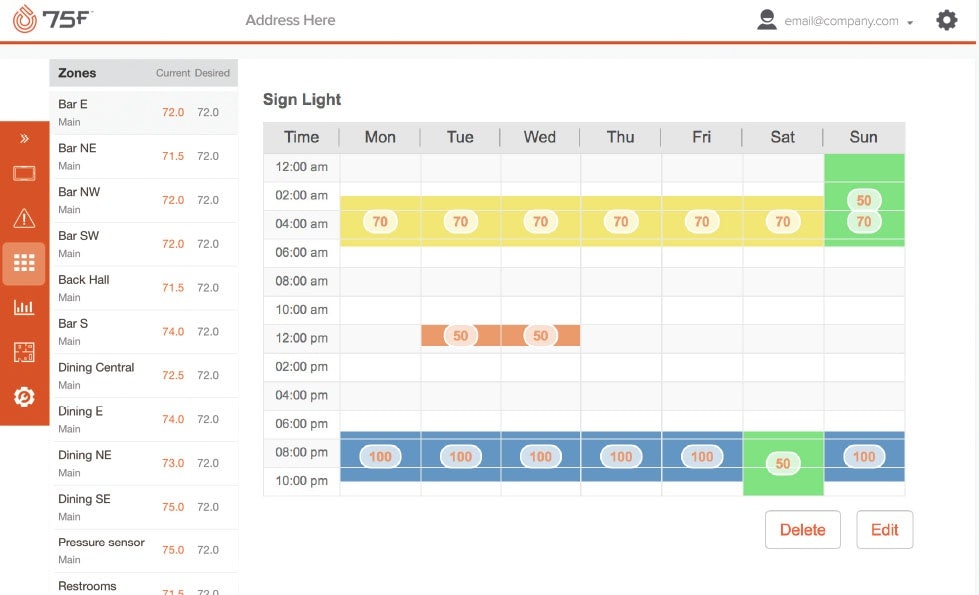 Better light for better health, WELL approved
Not only is smart lighting extremely convenient and a great source of extra energy savings, it makes tenants and employees happier and healthier too. You may not realize it, but light has significant influence on one's healthy circadian rhythm, which contributes to several important biological functions of the endocrine, digestive, nervous, muscular, immune, and cardiovascular systems. When daylighting is used, for example, one study found that workers were up to 23% more productive. Eureka!
The International WELL Building Institute understands the importance of lighting on occupant well-being, and recognizes our system's opportunity to improve occupant health and well-being. The WELL Building standard includes lighting as one of seven core concepts of health. Our photocell integration, zero- to 10-volt dimming control, occupancy detection, and automation and scheduling of indoor and outdoor zones can help you meet WELL Building standards and save energy.
More specifically, our system helps you meet: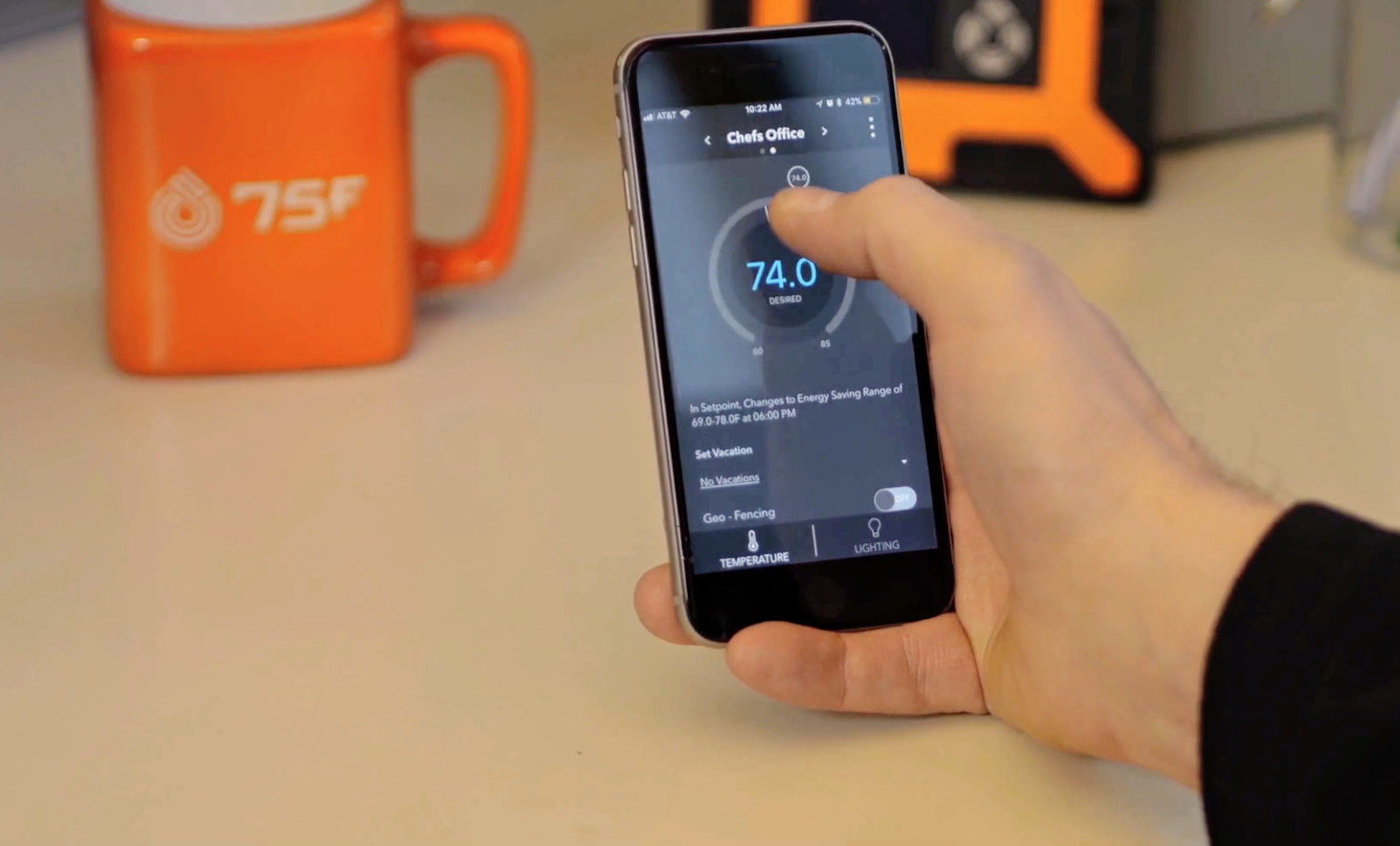 There's an app for that
Flipping a switch is a thing of the past. Increase efficiency with the ability to manage your entire lighting system with 75F® Facilisight®, our suite of web and mobile apps. Not only can you make scheduling changes remotely, you can manage the scheduling of hundreds of buildings from your phone or computer. Plus, with Facilisight® you can go beyond your monthly energy statement and see your energy use being optimized in real time. Our energy saving technology keeps you in the know. 
Your building occupants can enjoy the benefits of smart lighting, too. With the 75F® Occupant App™, occupants can turn lights on and off, or adjust dimming settings from 0-100% from their smartphone. Easy, breezy and integrated – which is how we like to do it here at 75F.
Benefits and key differentiators