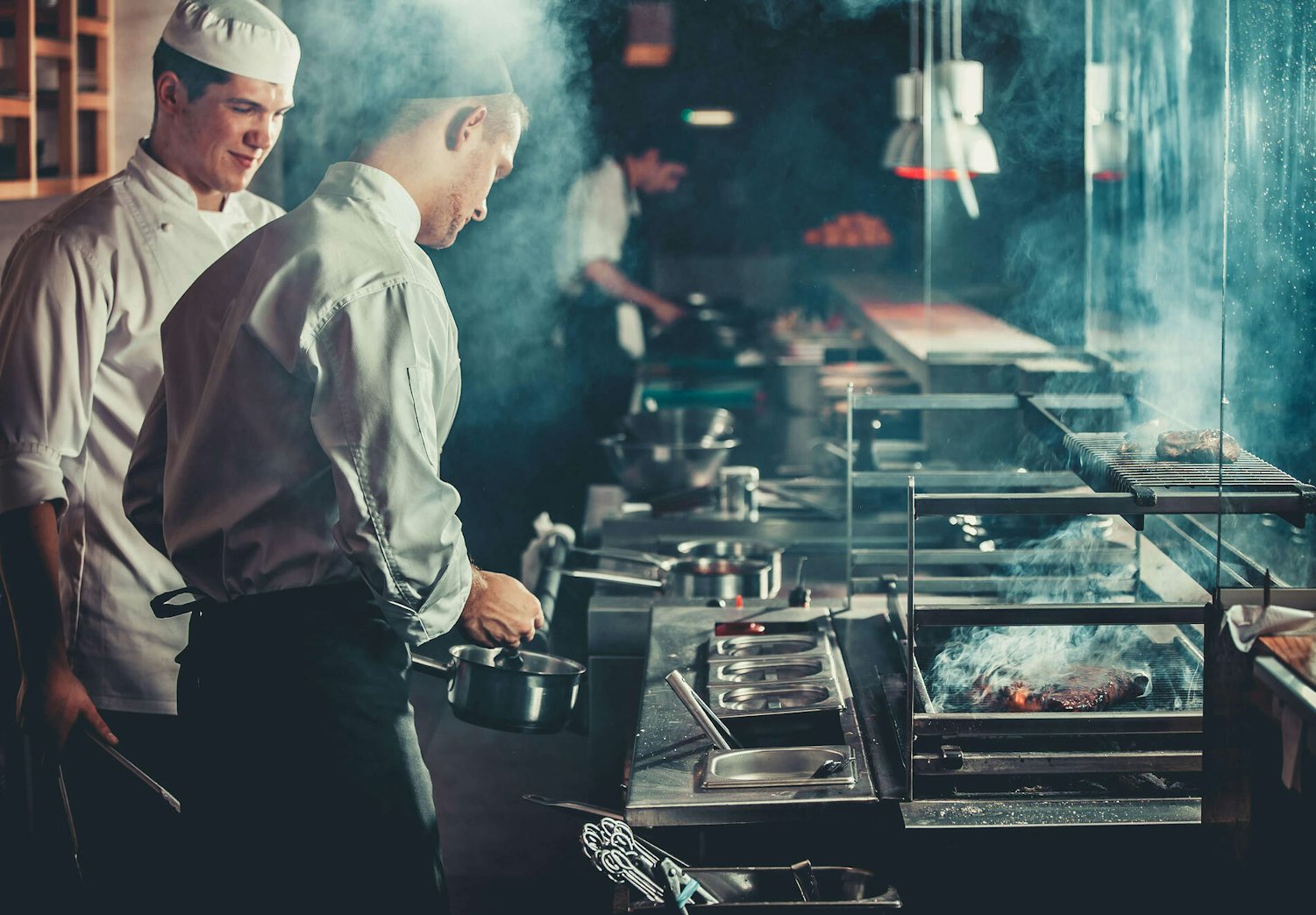 6 Keys to an Effective Restaurant Building Management Solution
Restaurants are the most energy intensive commercial buildings in the United States, according to the Energy Information Administration, and they consume nearly three times the energy of the average commercial building per square foot. Special equipment, lengthy hours, and sheer demand create much of this consumption.
In addition to their costly energy consumption, restaurants are particularly prone to building pressure imbalances. A building pressure imbalance – either negative or positive – often manifests itself as difficult-to-open doors. If building pressure stays out of balance, restaurant buildings can suffer from a number of other symptoms, including trouble maintaining room temperatures, underperforming kitchen hoods, odors due to infiltration, back drafting water heaters (look for moisture, corrosion or melted plastic on top of the top of the heater), and condensation dripping from ceiling diffusers.
Here are some ways a smart building automation system can diagnose, solve, and prevent issues like pressure and temperature imbalances in restaurant buildings – while reducing energy bills by up to 50% in the process.
Increase guest satisfaction, employee productivity & energy efficiency
75F utilizes the Internet of Things (IoT) and our proprietary cloud computing algorithms to create systems that predict, monitor and manage the needs of all the restaurants you manage. Whether you are looking to increase energy efficiency, create a comfortable environment for your guests and staff, or remotely manage multiple locations, we eliminate inefficiencies and increase your bottom line.
We have employees and vendors telling us that they've never been in restaurants in our company that have been this comfortable.
Smart solutions for restaurants
Our smart building automation solution can work for nearly any restaurant, big or small. Controls can be retrofitted to even older, out-of-date equipment. Our BAS can help manage common restaurant pain points, such as hard-to-open restaurant doors caused by pressure imbalances or unwanted kitchen odors or smoke – all while saving significant amounts of energy. Our solutions include: 
HVAC Optimization
Control temperature across zones, create a comfortable kitchen and dining area, and optimize outside air for free cooling savings. We build a vast data model by ingesting over a million data points every day per site. The system creates a continuous dialog between multiple HVAC systems in your building, ensuring they work together to reduce energy usage. 
Refrigeration Monitoring
Refrigeration monitoring automatically monitors your refrigeration system, and alerts you the moment there's a problem. Monitor everything from walk-in coolers, to freezers and refrigerators. Got wheels? No problem. Our system is wireless and designed to move with your appliances.
Advanced Lighting
Schedule and automate lighting based on occupancy, daylight harvesting, and more. The solution includes a complete system to add multi-zone control for lighting in fixtures and signage to any facility. Selected lighting zones (circuits) can be scheduled for ON/OFF control using 75F® Facilisight®, our suite of web and mobile apps.
Humidity Control
Comfort and efficiency optimization starts with an understanding of your environment. Sense and manage humidity for improved comfort and reduced mold risks by using your system(s) to cool and dry air overnight.
IAQ Management
Monitor and automatically manage CO2 & VOC levels for occupant health and productivity. Enhanced by predictive analytics, cloud computing, and processing power, our cutting edge technology achieves the ideal level of Indoor Air Quality and mixed air temperatures, allowing for maximum comfort at all times.
Pressure & Odor Management
Building pressure affects guest comfort, utility costs, and equipment life. Balance differential pressure so doors operate smoothly and customers don't experience kitchen odors or smoke.
How we make it possible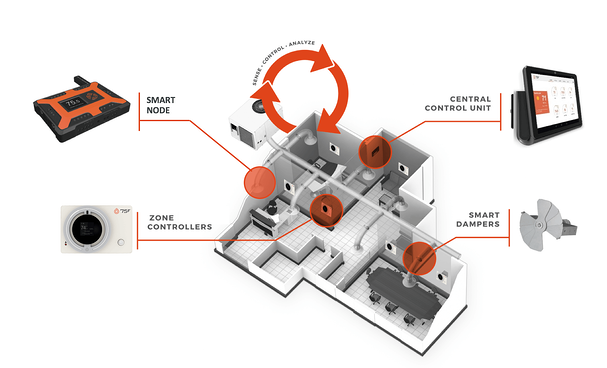 75F is reinventing building controls using modern technology, such as cloud computing, wireless networking, and mobile apps. 75F offers an easily-installed, wireless building automation solution that delivers sophisticated HVAC and lighting control, while reducing HVAC and lighting utility costs by 30-50%. Our system comes in at a fraction of the cost of comparable systems and can often be installed in half the time!
75F® Facilisight™, our suite of web and mobile apps, offers a single-pane-of-glass monitoring and management solution for your restaurant's HVAC/R, IAQ, pressure, humidity, lighting, and energy management. View real-time temperature and energy status across sites, drill down to zones and equipment for analysis and remote diagnostics and push schedule changes and other updates across sites.